Near the stop Leopardi Square, just a few steps from theEdict of the '700 the church of San Vitale Martire.
The building we see today recalls the classical forms of fascist architecture, even if it was built in 1952: square, simple, made with resistant materials that enhance the perfect symmetries of shapes. Everything for remember the Roman Empire and its power. The architect wanted to respect the rational philosophy of the Fuorigrotta district with this work.

The first tomb of Leopardi in Fuorigrotta
An invisible thread holds together two very different elements but both linked to a mysterious character, who has always fascinated Italians: Giacomo Leopardi.
There tomb of Leopardi, is located at Vergiliano Park since 1939, but our dear Giacomo died in 1837, about a hundred years earlier. In this very long span of time he did not rest in large churches and had no memorials, but was created, on order of his close friend Ranieri, a sepulcher a Fuorigrotta, in "our" church of San Vitale.
A few years later, in 1897, the tomb was declared by law "National Monument"And the church was completely renovated for the occasion. The name of the square in front became Leopardi Square and, to further pay homage to the poet, the station of the direct route inaugurated in 1927, it opened its doors right in front of the square with the poet's tomb.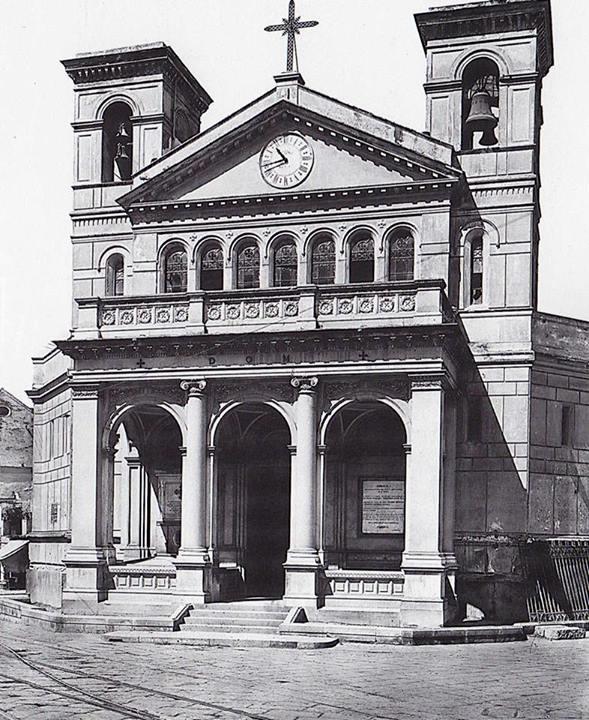 Then "His Majesty the Pickaxe", as the fascists called it, ten years later he completely renovated the entire neighborhood, which was little more than a farming village. In fact, it was decided at the end of the 1930s to build the Mostra d'Oltremare and the new residential district, which was to be a bourgeois area of Naples, a bit like the EUR in Rome, but in a smaller version. In these furious demolitions, which were announced every month in the Luce newsreels, the old church of San Vitale, renovated just 20 years earlier, also ended up there. And we will have to wait another 20 years to see it rebuilt, since a stretch of Viale Giulio Cesare.
The modern San Vitale
There tomb of the poet (but not the bones, since we do not know where they are!) was moved to the green Vergiliano park, next to the large Virgil, where it still stands today.
The church we see above was built after the war, eliminating Piazza Italia. This too is called Church of San Vitale, to remember the ancient past that no one seems to know.
However, it is not a completely modern church: inside it preserves two paintings by Luca Giordano, that unite past and present, between a non-existent place and a modern church. And the poet from Recanati, in Fuorigrotta, moved in the name of another street, Via Leopardi.
What a mess!
-Roberta Montesano and Federico Quagliuolo
Site of the parish of San Vitale
Become a supporter!
With a small contribution you will keep the largest cultural dissemination site in Campania alive! Many advantages for you