Each of us has heard the saying "See Naples and then die", there are those who, unfortunately, have used it with a negative meaning, who still do not explain its true meaning. Joseph Conrad gave his own version, but the people have their own legend.
Naples, a long time ago.
The protagonist of our story is a very special old woman: one powerful witch, one of those witches capable of any kind of spell. His magic was really powerful and awe everyone… everyone, in fact, believed he practiced dark magic, but he wasn't. Our witch, Raziella, she was actually a very kind-hearted woman, a good woman who we can define as a "savior" in this case. But why?
At the time, Naples was the favorite destination of all those who they suffered for love: the broken hearts arrived in our city and the beauty of these places enchanted them to the point of making them forget the pains of love for the duration of their stay. Unfortunately, however, the memory of their lost love was always there and when it came time to leave it resurfaced, painful as never before. Little was the will to live of these men and women, many had been devoured by suffering, many had died of it.
Raziella could see the suffering in the eyes of these men and women and could not stand it: she herself, as a young man, had lost her great love and since then she had dedicated herself body and soul to magic, in an attempt to do good. to the others.
Fortunately, she was not only a very powerful witch, but she also had great inventiveness and had a wonderful idea for all these grieving young people unable to take their lives back in their hands!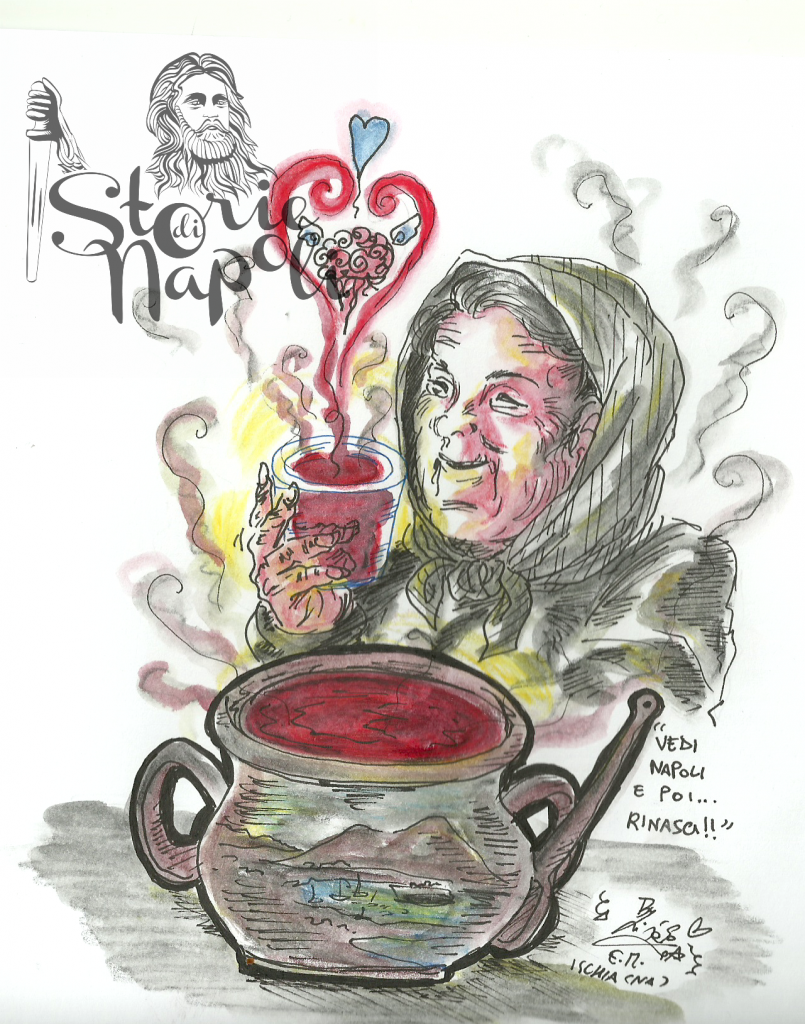 There were a thousand ingredients in his pot… and he goes round and round and round again, here is the potion! A pleasant-smelling blood-red concoction was her result, and she quickly filled a whole bottle of it: Raziella had created a magical wine, a wine that made you forget everything, everything from the past, including suffering for love.
She was offering a glass to all those young strangers before they left. After drinking that delicious wine, all the young people forgot their previous life. It was almost like dying, only to be reborn.
See Naples and then die.

But maybe we should say: You see Naples and then you die ... and then you are reborn!
Raziella with her magical wine had managed to give new life and new happiness to those who no longer knew its meaning.
He had given them a new life in the city that had restored them from suffering.
See Naples and then die.
–Cristina Bianco
-I thank Lisa Mocciaro for the wonderful illustration
Become a supporter!
With a small contribution you will keep the largest cultural dissemination site in Campania alive! Many advantages for you