The re di Poggioreale, questo lo pseudonimo di Joseph Navarra, the guappo che divenne famoso durante la second World War per aver salvato il treasure by Saint Gennaro.
Chi era Giuseppe Navarra?
Dalle testimonianze che si hanno sul suo conto si evince che "Peppino" Navarra fosse un uomo dall'aspetto atletico, probabilmente anche grazie al fatto di essere stato un palombaro in passato, e che in seguito abbia iniziato a lavorare in subappalto per la Ditta Ottieri, un'impresa edile, il compito di Giuseppe consisteva nel selezionare il wood tra le macerie createsi dopo i lavori dell'azienda e trasportarlo.
"Casualmente" alle volte veniva prelevato anche del ferro, come riporta Mario Bevilacqua, che conobbe personalmente Navarra in quanto dipendente della stessa ditta in quegli anni.
Si conosce, seppur meno, una figura fondamentale per l'antieroe di questa storia: la Regina, or wife di Navarra nei confronti della quale aveva delegato la mansione di occuparsi delle richieste che le persone presentavano.
Un tragico evento, la death of the figlio because of a bombing, spinse il Re a vestirsi sempre di black, esattamente come la sua car: un maggiolino nero con scritta bianca che recitava "Giuseppe Navarra detto il re di Poggioreale".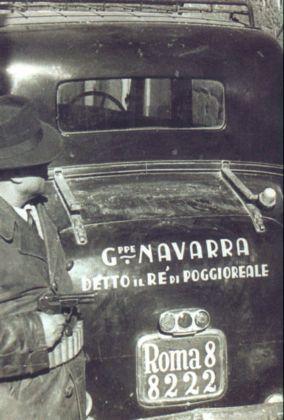 L'avventura del Tesoro di San Gennaro
L'immensa collezione che compone l'oro di Napoli, durante il difficilissimo periodo della Seconda Guerra mondiale fu trasportata nel Vatican, a causa dei ripetuti e costanti bombardamenti che la città di Napoli subiva, ma anche a causa di ipotetiche raids.
The Tesoro infatti fu portato prima a Montecassino, in un'abbazia distrutta poi dai bombardamenti, quindi a Rome da un monaco che riuscì a salvare la collezione prima della distruzione dell'edificio.
Already in 1943 si iniziò nella Curia a parlare di trasportare il patrimonio a Napoli, ma la città a causa delle violenze da parte di ogni fazione coinvolta e della fortissima presenza della camorra, non venne ritenuta adatta in quel momento.
La decisione ufficiale fu presa solo dua anni più tardi, nel 1945, tuttavia nel '47, a conflitto terminato, sussisteva ancora il problema di riportare il Tesoro a casa, il Duomo di San Gennaro.
Giuseppe Navarra si offrì volontariamente per andarlo a recuperare, chiedendo ed ottenendo un lasciapassare dal Cardinale Ascalesi e portando con se il Principe Stefano Colonna by Paljano e il suo autista.
I tre non ebbero particolari problemi durante il viaggio, anche grazie ai profondi legami del Re di Poggioreale con la crime, eccetto uno: una violenta turbolenza che portò la macchina ad accostare e ad essere raggiunta dai carabinieri che effettuarono un posto di blocco.
Navarra aveva un'altra freccia nel suo arco, grazie alle sue conoscenze con Assessori Neapolitans riuscì ad ottenere una tessera da Vicesindaco di Napoli (ovviamente falsa), che mostrò alle forze dell'ordine.
Giunti a Napoli i tre furono accolti come eroi e il Principe dei guappi riferì al Cardinale:
"Non voglio nulla per me. Voglio solo baciare il sacro anello."
Giuseppe Navarra è stato un personaggio molto controversial, con una storia legata alla criminalità ed arricchitosi grazie alle speculazioni edilizie, ma, come insegna questa history, anche un orologio rotto…
Sources:
Il Principe, il Guappo e la caccia al tesoro più pazza del mondo
San Gennaro a Montecassino. Come fu salvato il Tesoro nella Seconda guerra mondiale
Nando Tasciotti
Become a supporter!
With a small contribution you will keep the largest cultural dissemination site in Campania alive! Many advantages for you