Ci fu un periodo in cui Napoli divenne capitale del Rugby in Italia. E fu gran merito dei palloni passati da Elio Fusco: capitano, allenatore, giocatore di una squadra azzurra che vinse i suoi primi due scudetti vent'anni prima di quelli portati in città da Maradona. It was there Napoli degli anni '60 e il rugby, che non è mai stato uno sport particolarmente seguito in città, diventò improvvisamente la passione di tutti i napoletani grazie proprio al charisma del mediano di mischia più famoso dell'epoca.
Erano tempi in cui lo sport non era fatto da professionisti e stipendi ricchissimi: Elio era un dipendente dell'ENEL e molti suoi colleghi e compagni di squadra erano divisi fra professionisti e persone prese letteralmente dalla strada che, grazie al rugby, furono salvate dalla malavita. Elio Fusco anche il primo atleta meridionale ad indossare la maglia della nazionale italiana.
Una vita fatta di trionfi straordinari, eccessi e un carisma di ferro capace di trascinare la classica squadra underdog alla vittoria. Tutta raccontata dal figlio, Gigetto Fusco, in un bellissimo libro.
Chiamatemi Elio!
Nacque nel 1933 e il padre Luigi, un importante Neapolitan lawyer, volle chiamarlo Emilio. Nemmeno quell'imposizione stava bene al piccolo scugnizzo che, agli amici, disse sin da bambino: "chiamatemi Elio!". Si può dire insomma che anche il nome se lo diede da solo.
Nacque e visse per tutta la sua vita a Dante Square, fra scorribande con i suoi amici. Attaccatissimo alla madre, ultimo di sette fratelli, dal carattere impulsivo, ma dal cuore tenero. Era il classico "duro" che, una volta affezionatosi, diventava un amico fedele fino all'estremo.
Durante il regime fascista il rugby, essendo un gioco di origine straniera, era inizialmente osteggiato, preferendo le tradizionali discipline olimpiche e il sempiterno soccer, troppo popolare presso il popolo per far questioni sulla sua nascita inglese. Negli ultimi anni '30 l'ambiente duro e mascolino del rugby fu poi rivalutato: il fascismo lo elevò ad esempio di cameratismo, virilità e combattimento. E fu in quell'occasione che il fratello maggiore di Elio, Ninuccio, conobbe questo sport. Dopo la guerra, su advise ingenuo della mamma, volle coinvolgere il fratellino che, nonostante i 14 anni, era ancora irrequieto e perennemente in giro fra il Cavone e Dante Square, a far scorribande con i suoi amici. Era il 1949 e per la prima volta il giovanissimo Elio vestì la maglia del Napoli Rugby. In quel momento, nacque un amore che durò per tutta la vita.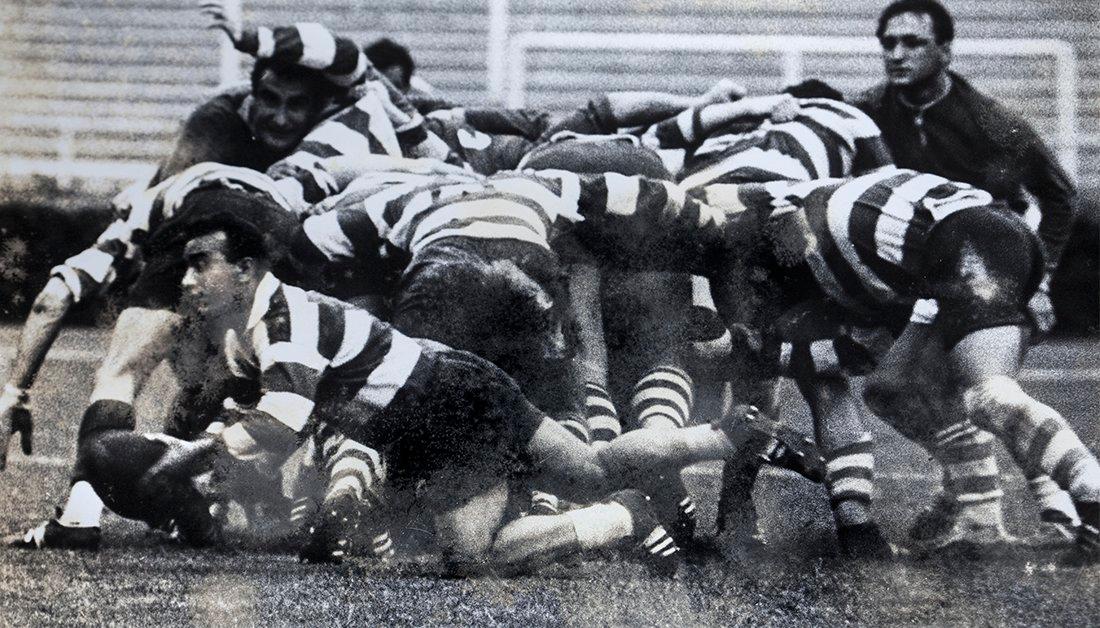 Un uomo solo per trascinare una squadra
La maglia di Elio Fusco era rigorosamente il numero 9, che nella fantasia dei tifosi parificò al leggendario "10" nel mondo del calcio. Il suo ruolo era quello di mediano di mischia.
Per onorare questo ruolo serviva un eccellente senso di posizione nel capo, una lettura del gioco e delle linee di passaggio. Eppure il fisico del buon Elio era tutt'altro che rispettoso dello stereotipo del rugbysta: basso e tozzo, quand'era piccolo la mamma non voleva farlo giocare perché, in confronto ai tanti Marcantonio che si battevano sul campo, si pensava che sarebbe finito in ospedale in pochi minuti. E invece, proprio sfruttando le sue qualità fisiche, Elio diventò il maestro del passaggio di palla, capace sempre di fare il passaggio giusto nel momento perfetto.
Da giocatore e da allenatore era ossessionato dalla tattica e preparava le partite con la stessa precisione che ci mettono oggi gli allenatori di Serie A, anche se all'epoca lo sport era considerato una questione di dilettanti.
Quando Fusco scendeva in campo, avevi l'impressione che il Napoli stesse giocando in 16 uomini

Giancarlo Barzanti, allenatore della Ignis Roma
Negli anni '50 il gioco del rugby era colonia delle squadre del Nord Italia (con scudetti divisi fra Emilia Romagna e Veneto) ed era uno sport frequentato nel tempo libero da professionisti: la stessa società del Napoli Rugby contava diversi studenti universitari che spesso si assentavano per esami o anche dirigenti d'azienda, avvocati e medici. Emblematico fu proprio il caso di Ninuccio Fusco, il fratello di Elio, che si laureò in medicina e continuò ad esercitare la professione di chirurgo e di rugbysta fino a 32 anni, giocando fianco a fianco con l'acerbo fratellino. Poi decise di "sistemarsi" e lasciò il pallone ovale. Altri, come Marcello Martone, che fu soprannominato 'o dottore, continuarono per tutta la vita a fare una doppia professione: medico e sportivo.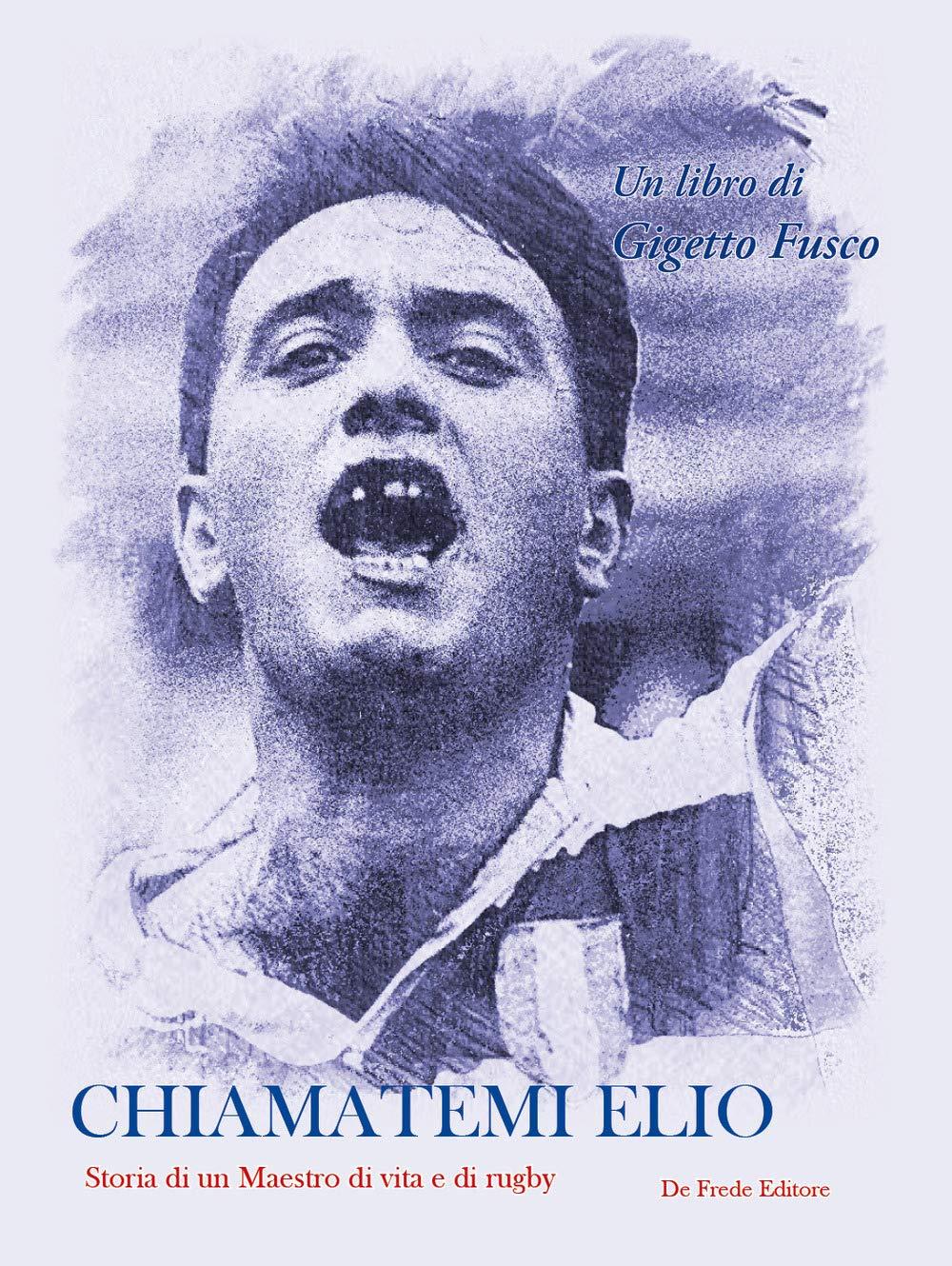 "Lo scudetto dei poveri"
La storia di Elio Fusco con la maglia della Partenope fu fatta di alti e bassi. Inizialmente era considerato un giocatore acerbo, irruento, volenteroso, ma egoista. Poi, con grande umiltà e voglia di primeggiare, migliorò a vista d'occhio, fino a diventare in pochi anni il mediano più ambito di tutta Italia: In the 1960 arrivò la prima convocazione in nazionale e nel 1961 la fascia di capitano del Napoli: la sua figura era presente ovunque fosse una palla ovale. Assisteva agli allenamenti delle giovanili, giocava e allenava la prima squadra allo stesso tempo, selezionava in città i migliori talenti per poterli introdurre in squadra.
Le sue imprese cominciarono ad essere raccontate dai giornali locali, per la prima volta riempiendo lo stadio Albricci, che cominciò ad essere frequentato dai primi curiosi verso uno sport che a Napoli non aveva mai attecchito. La squadra, con la sua grinta, li trasformò in tifosi appassionati quanto e più di quelli che riempivano il neonato Stadio San Paolo.
Nel frattempo la società sportiva viaggiava continuamente sull'orlo della crisi economica anche se fu più volte sfiorata l'impresa with uno scudetto perso all'ultima di campionato nel 1964.
Il successo era però nell'aria e nel 1965 arrivò il primo storico scudetto festeggiato allo Stadio Collana con una clamorosa invasione di campo: era la festa del popolo, perché davvero tutta Napoli aveva letteralmente finanziato quella vittoria.
A quel campionato la Partenope nemmeno doveva partecipare. La crisi economica si stava acuendo sempre di più e, ad un certo punto, non c'erano nemmeno più i soldi per pagare la trasferta degli sportivi a Milano, where is it vinsero i campani per 10-8 dopo una partita combattutissima. Fu in quel momento che i napoletani decisero di fare una colletta per sostenere la squadra fino a fine campionato. Fu raccolta la cifra di un milione di lire, che tenne in piedi la squadra fino a fine campionato. Furono tempi di imprese straordinarie contro il Rovigo e le squadre romane, fino alla finalissima contro il Frascati nella "fossa dei leoni", che vide più di 12.000 spettatori: fu un record italiano. Il carisma di Elio, che chiamava tutti i suoi compagni con nicknames che mantennero per il resto della carriera, era ormai raccontato sulle pagine di tutti i quotidiani sportivi.
The secondo scudetto, complice l'arrivo di Marco Bollesan, una leggenda del rugby italiano, fu ancora più combattuto: the Parthenope era diventata la squadra da battere e ogni partita era giocata fino allo sfinimento in attacco e in difesa, senza le protezioni e le precauzioni del rugby attuale.
Emblematica è la foto di Elio Fusco trionfante, che esce dal campo senza due denti, persi durante la partita decisiva contro la Ignis Roma (vinta per 9-0). Anche lì fu una immensa festa coronata dall'arrivo dei primi sponsor e di Achille Lauro, che volle personalmente premiare gli sportivi.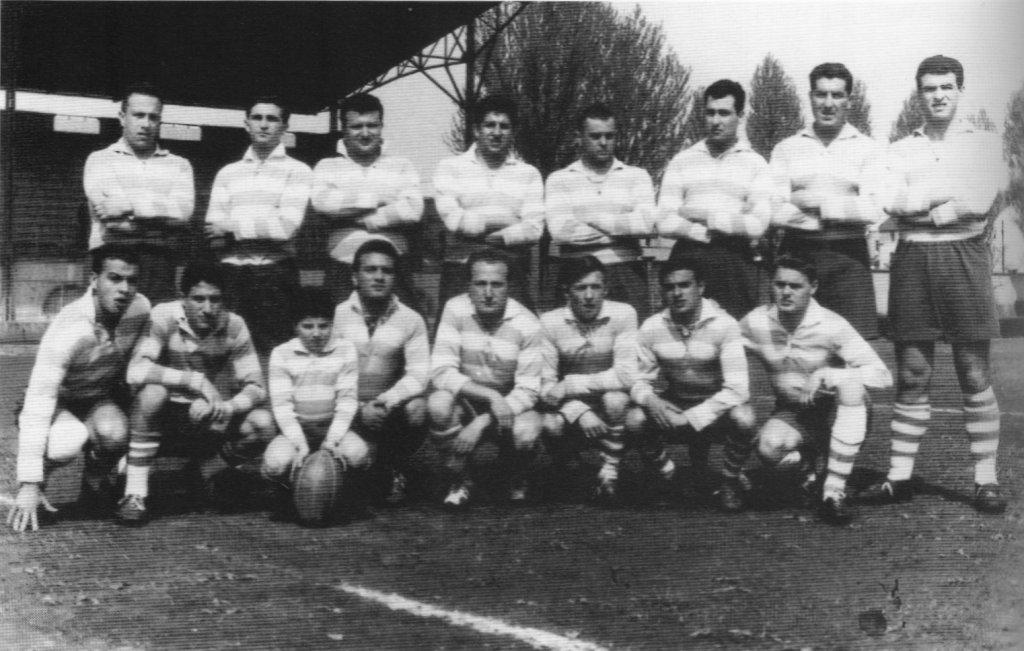 La stoffa del campione
Le favole napoletane, troppo spesso, durano poco. Ed anche la storia di Elio Fusco e della sua Partenope Rugby, purtroppo, finì con un tracollo così come accadde con il Napoli di Maradona.
La società Partenope, che aveva vinto due scudetti senza soldi e con una organizzazione dilettantistica, fu avvicinata dalla Ignis, which became sponsor tecnico e portò soldi che, come sempre nella vita, crearono divisioni. Molti rugbysti decisero di abbandonare la squadra, altri rimasero discontented. E fu così che Fusco si trovò dallo scudetto a gestire una squadra nel caos, che riempì con nuove leve affidandosi al suo istinto da talent scout. Non volle però mai abbandonare Napoli, nonostante le tantissime offerte da squadre del Nord, proprio per l'amore che aveva verso la città. Alla fine anche lui fu costretto ad andarsene prima a Roma e poi a Catania.
Dopo anni e tanti screzi con la dirigenza della Partenope, tornerà di nuovo Napoli da allenatore e riporterà in Serie A dopo 25 anni. It was the 1989 e Fusco non aveva perso il suo amore per il pallone ovale. Poi ricominciarono i guai fra politica e società sportiva, oltre all'indisponibilità dello storico campo da gioco dell'Albricci. E di nuovo Elio, integerrimo e poco incline al compromesso, finì la sua carriera straordinaria con tanto amaro in bocca, ma continuando anche senza titoli ufficiali a far crescere nuovi talenti sul campo da gioco: si dedicò infatti ai suoi figli e ai nipoti fino all'ultimo giorno della sua vita, insegnando i valori dello sport.
Ai miei figli ho sempre detto: "Non lasciate Napoli!" Dovete dare a questa città lo stesso riscatto che abbiamo conquistato noi nel 1965

Elio Fusco
La sua vita finì nel 2009. Aveva 76 anni e fu tradito da un tragico scherzo del cuore, che già gli aveva dato brutte avvisaglie diversi anni prima e lo aveva costretto ad una operazione in Texas.
In 2019, a 10 anni dalla morte del più forte numero 9 del rugby napoletano, il Comune di Napoli ha voluto omaggiare la memoria di Elio Fusco con il titolo di "Cittadino benemerito", consegnato simbolicamente ai figli del campione.
His heredity è infatti ancora più che viva, con la famiglia Fusco che, ereditando gli insegnamenti del nonno, è tutta votata allo sport. TO Marano hanno fondato la scuola di rugby "Elio Fusco" e i figli di Gigetto e degli altri fratelli sono tutti specializzati in varie discipline, from the scherma a, guardacaso, il rugby. Fra questi, poi, c'è proprio un Elio Fusco junior che, con l'orgoglio del nome del nonno, ha già un futuro da stella nei campi che verranno.
-Federico Quagliuolo
Become a supporter!
With a small contribution you will keep the largest cultural dissemination site in Campania alive! Many advantages for you