«Non c'è nessun altro vulcano al mondo, nessun altro luogo di montagna per il quale sia stata pensata una cosa del genere, un intervento che coniuga bellezze naturali – che non hanno bisogno di parole tanto il Vesuvio è conosciuto, un'icona mondiale – con il genio degli artisti hanno apportato al fascino del vulcano il soffio della loro arte».
Così il direttore artistico Jean-Noël Schifano ha affermato durante l'inaugurazione di un particolare museo a cielo aperto, Creator Vesevo, nato sulla strada del Vesuvio. Dal 2005 il percorso che conduce a quota mille sul vulcano è infatti abitato da opere in pietra lavica che, come guardiani del posto, accompagnano il cammino di chi è diretto alla vetta.
La lava del Vesuvio da potenza distruttrice a forza creatrice
Il progetto è costituito da dieci sculture realizzate da artisti di fama internazionale, commissionate dal Comune di Ercolano e realizzate con il sostegno del Parco Nazionale del Vesuvius e del Consorzio per la tutela della pietra lavica vesuviana. Un connubio di opere in cui l'elemento in comune è la lava che, paradossalmente, non è più simbolo di distruzione ma quello di forza creatrice. Un progetto ambizioso che ha messo alla prova alcuni tra i migliori scultori al mondo nel lavorare una pietra tanto dura e per niente facile da scalfire. Ogni statua trasmette un messaggio e anima il percorso a proprio modo.
Da ogni parte del mondo
La prima opera che si incontra lungo il cammino è Listening with the eyes dell'olandese Mark Brusse. Si tratta di un monolite con quattro enomi occhi incastonati nella roccia. Ma lo sguardo di quest'opera non è l'unico rivolto il passante. Tra le personalità provenienti da tutto il mondo, l'unico italiano che ha preso parte al progetto è Lello Esposito, napoletano famoso per le sue raffigurazioni dei simboli napoletani. La sua opera, intitolata Gli occhi del Vesuvio, è una maschera di pulcinella da 45 tonnellate. I suoi occhi rappresentato quelli del popolo napoletano che guardano verso l'orizzonte, su un panorama che si estende da Napoli a Caserta. Tra i protagonisti dell'esposizione compare anche il personaggio mitologico Icaro. Il francese Antonio Seguì ne ha rappresentate gambe e scarpe, come se cercasse qualcosa nella roccia, nelle viscere della terra. L'unica artista donna del progetto, l'islandese Rurì, ha invece realizzato Terra vivax un cono in perfetto e apparentemente in precario equilibrio su una lastra di lava. Su di essa sono incisi i nomi dei vulcani più pericolosi al mondo.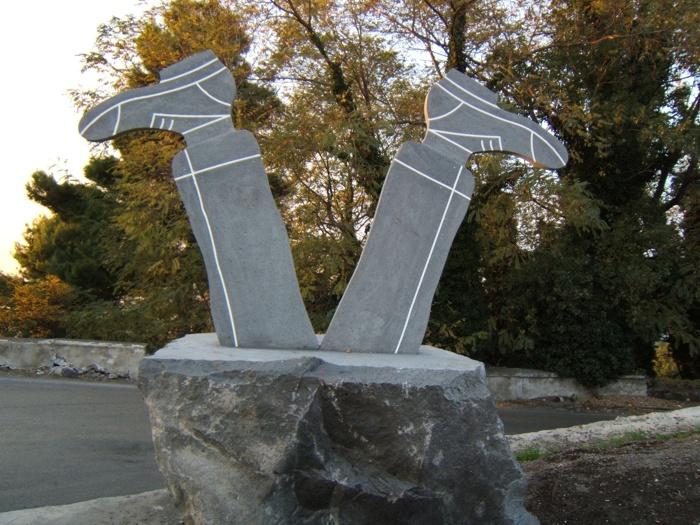 Elenco opere
Totem di Dimas Macero, Portogallo – l'Antenato di Vladimir Velickovic, Francia-Jugoslavia – il Tempo inesorabile di Johannes Grutzke, Germania- Gli occhi del Vesuvio di Lello Esposito, Italia – Terra vivax di Ruri, Islanda – Torso del Vesuvio 2005 di Miguel Berrocal, Spagna – Face au Vesuve di Denis Monfleur, Francia – Icaro di Antoni Segui, Francia-Argentina – L'angelo di fuoco di Alexander Fassianos, Grecia
Laura d'Avossa
foto dal web
Become a supporter!
With a small contribution you will keep the largest cultural dissemination site in Campania alive! Many advantages for you