There Pappacoda chapel, despite empires in the Largo Giusso, appears to be devalued as a whole historical and artistic.
Just looking at the entrance to the church in fact you can admire the splendid ornament made in marble by Antonio Baboccio from Piperno in the 1415, where it is depicted, among other things, Archangel Michael during the clash with the dragon.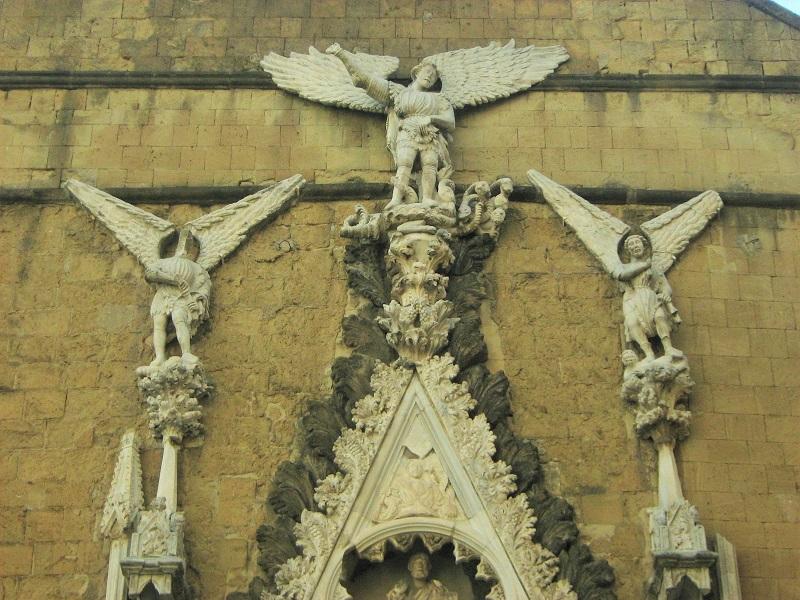 History of the Pappacoda chapel
The structure was born with the intent to collect the tombs of the mighty family Pappacoda, this was the original idea born from Artusio Pappacoda, councilor of king Ladislao I of Anjou, In the 1415.
When the chapel was built, with tuff yellow and dark gray piperno in the typical style late Gothic, the whole square was empty.
About three centuries later, Giuseppe Pappacoda commissioned the renovation of the chapel.
The works carried out over the years, however, contributed to the lost of many works contained in it.
The same Joseph he would then have one posted license plate, still present today, which reads:
"TEMPLUM HOC DIVI JOANNIS EVANGELISTAE -

AB ARTUSIO PAPPACODA -

REGNI LADISLAI REGIS SENESCALLO ET CONSILIARIO - YEAR MCCCCXV A FUNDAMENTIS EXCITATUM -

JOSEPHUS PAPPACODA CENTULANORUM PRINCEPS -

A CAROLO REGE BENECENTISSIMO - PRIMUM AUREO DIVI JANUARII TORQUE DONATUS TUM - INTER INTIMOS CONSILIARIOS ADSCITUS AEDIFICANDUM CURAVIT - YEAR MDCCLXXII "
The Italian translation of which is:
"This church of S. Giovanni Evangelista -

From Artusio Pappacoda -

Seneschal and advisor to King Ladislao - Built from the foundations in 1415 -

Giuseppe Pappacoda prince of Centola -

As a very beneficent King Charles - First awarded the gold necklace of San Gennaro - Then welcomed among the intimate councilors, he made sure that it was restored - In 1772 "
The Pappacoda chapel today
After a little more than 600 years there Pappacoda chapel he is still standing and has a strange relationship with life university of the area, being located in front of Giusso Palace, one of the headquarters ofUniversity the Oriental.
If on the one hand, in fact, carelessness surrounds the imposing monument, on the other it is now the site of graduation sessions and events.
Sources:
Become a supporter!
Storie di Napoli è il più grande sito web di promozione e storytelling della regione Campania. È gestito esclusivamente da giovani professionisti residenti nel territorio regionale: contribuisci anche tu alla crescita del progetto. Per te, con un piccolo contributo, ci saranno numerosissimi vantaggi: tessera di Storie Campane, libri e magazine gratis e inviti ad eventi esclusivi!