Love and footsteps, the crowd, the rush of anonymous faces. Two different floors? Or points of the same picture? The kisses of Adriana Caccioppoli, briefly, led to 2016 and 2017 a wave of passion on the walls of the historic center of Naples, drawing frames of famous love scenes.
Like all street art, unfortunately, it was a short and privileged experience, an emotion to be grasped for the few who, slipping along the busy streets of Spaccanapoli, had the luck (or attention!) to come across these extraordinary paper artwork.
Let's retrace a path that no longer exists, to pay homage to the author and perhaps discover a new emotion or inspiration.
Doisneau in Naples: the kiss of Via dei Tribunali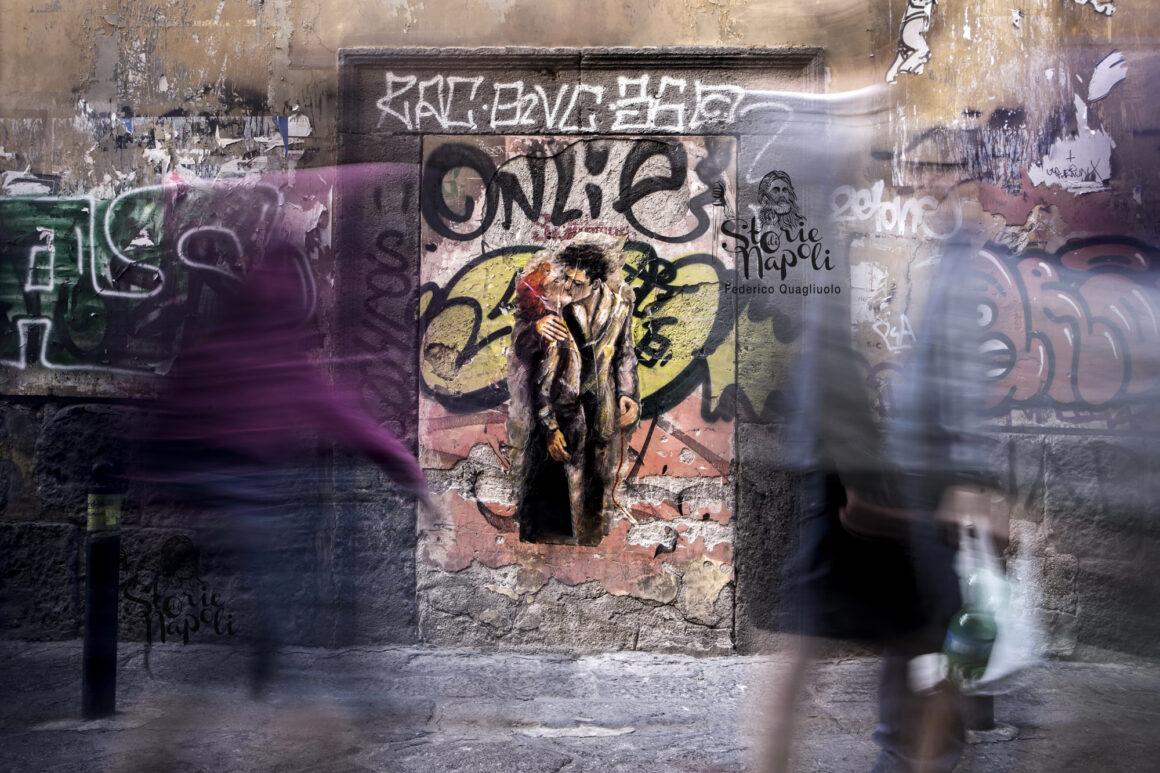 One of the most famous kisses of all time appears on a walled door: the photo of Doisneau's kiss in the Neapolitan version, as a background for the hundreds of people who ran in front of the Conservatory at noon. The French photographer became the author of one of the most famous kisses in the world: In the 1950 he photographed two young men in the middle of the Paris crowd. It was also in the center of great controversy.
The kiss of Piazza Bellini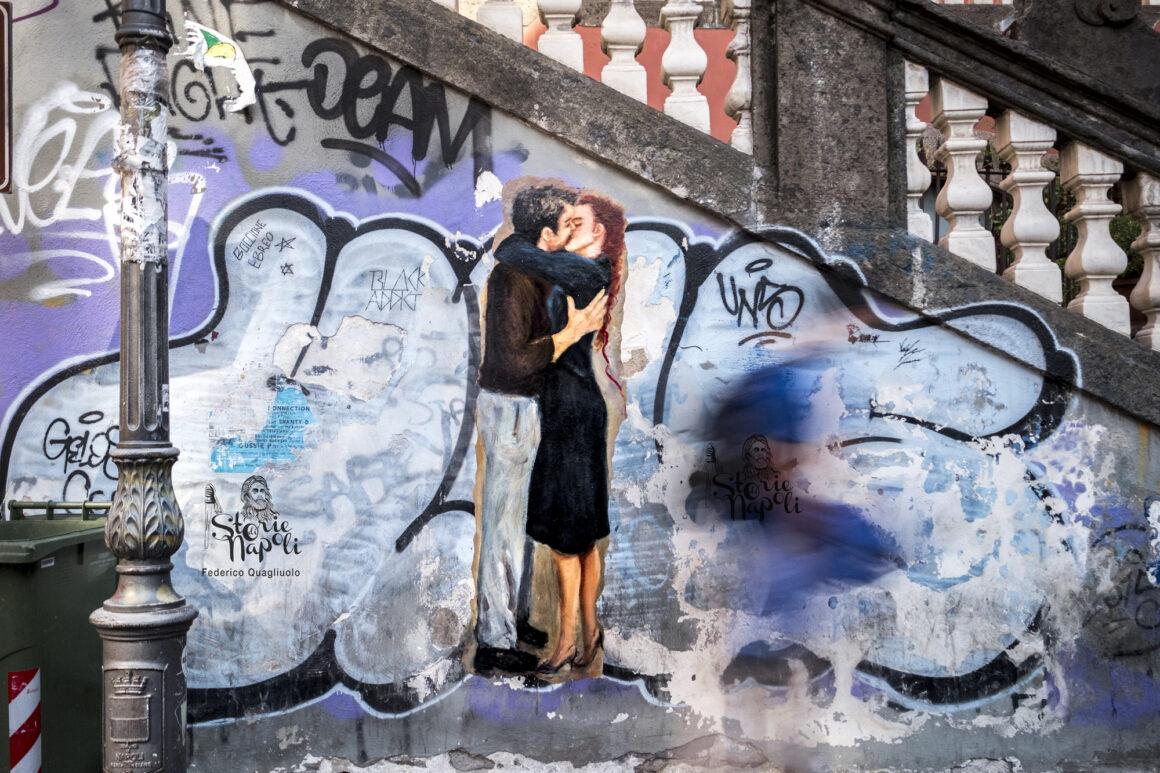 Right at the foot of the BRAU library there is perhaps what it has become the most famous kiss and paradoxically one of the longest-lived, since it disappeared in 2018, when all the others had already ended up in the memory.
The kiss of Via Costantinopoli - Hitchcock in the city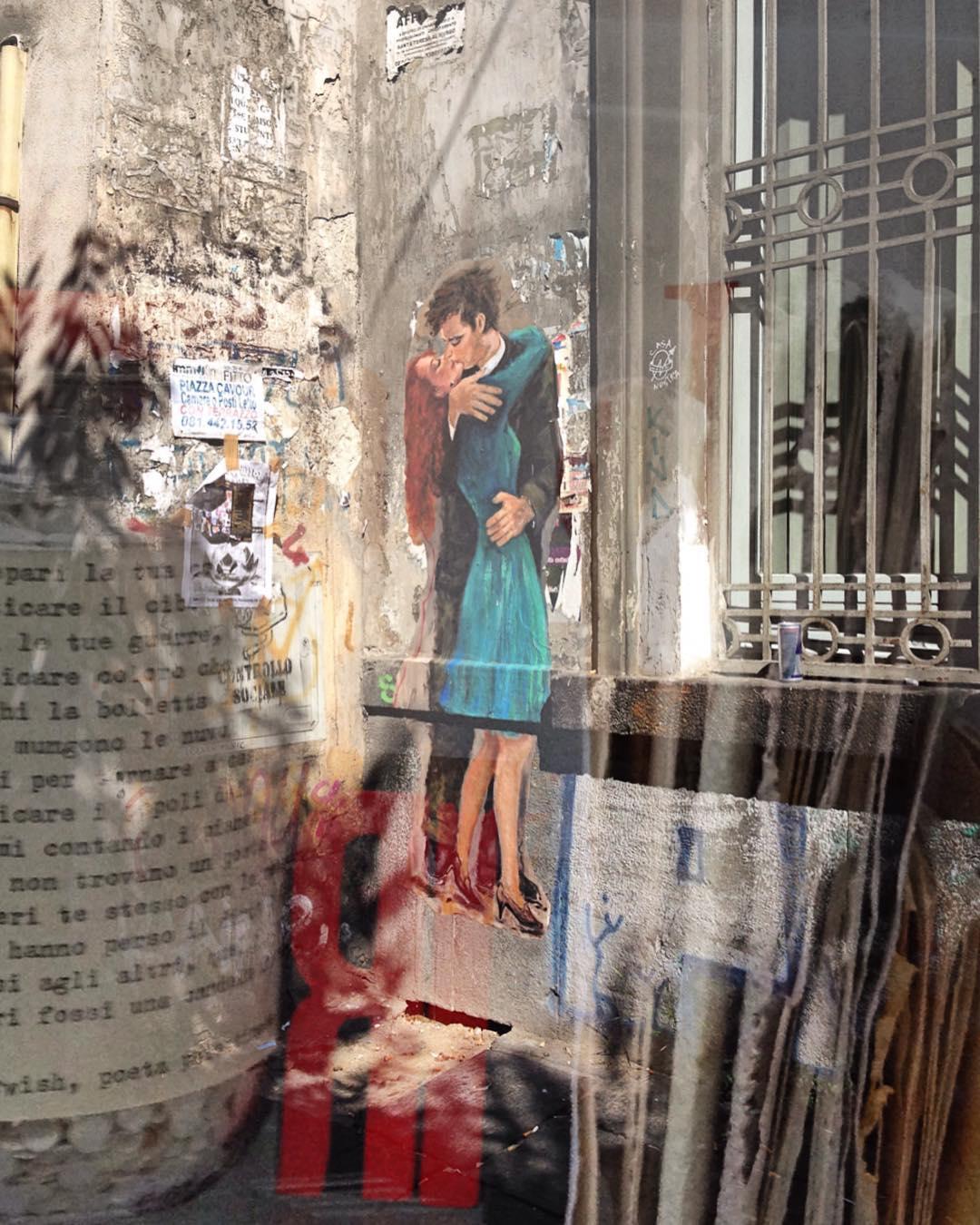 The history of this work there tells the artist himself, which was inspired by the film "Notorious - the lost lover" Of Hitchcock. Tell the story of a dangerous love, with Cary Grant and Ingrid Bergman living a deep, passionate and secret love.
The shy kiss of Vico Maiorani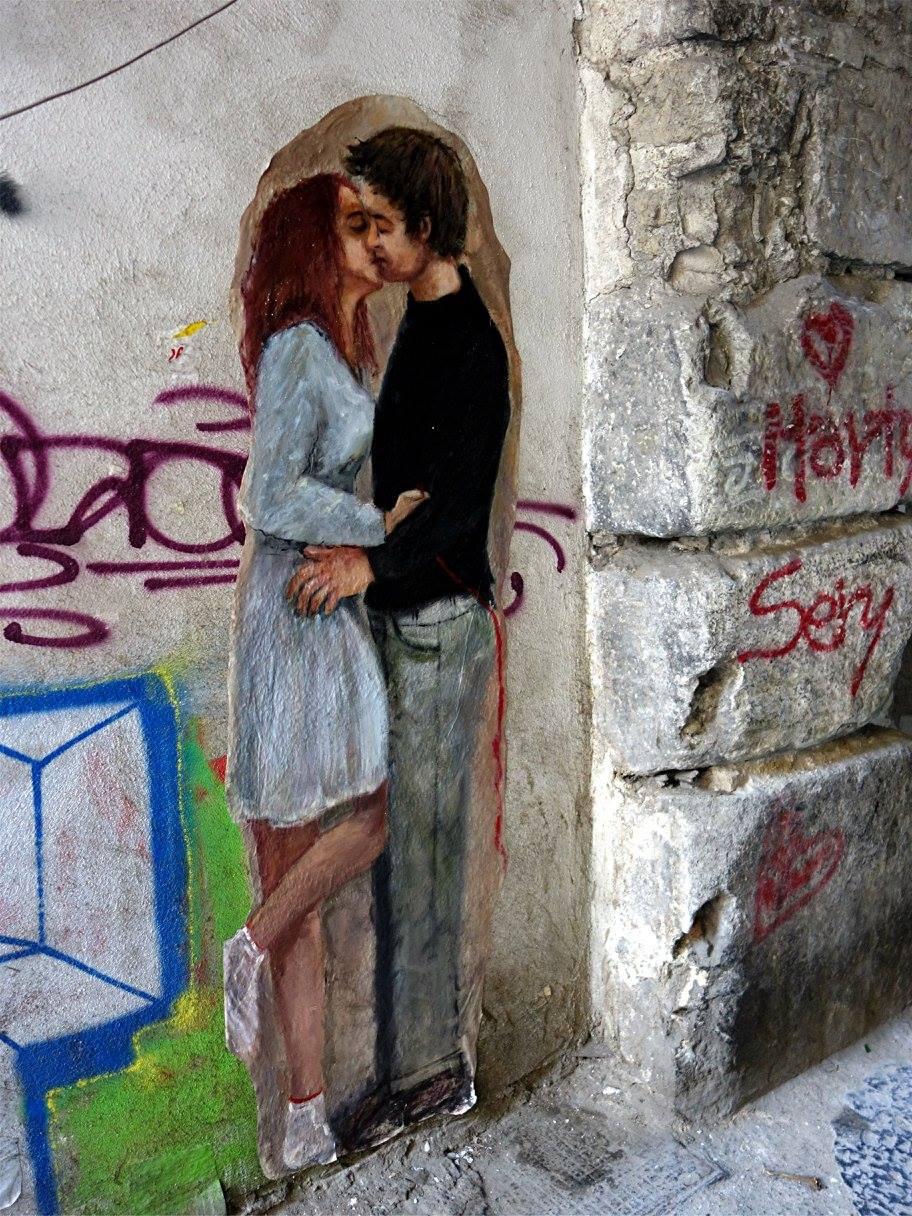 Two young people in love, secluded from Vico Maiorani, hidden from the public eye even more than all other lovers. On the other hand, you know, teenage love it is one of the most beautiful and overwhelming moments in life!
The kiss behind Piazza Bellini
Shortly after the destruction of the first of Adriana Caccioppoli's kisses, that of conservatory of San Pietro a Majella, in 2017 the swan song of this small and intense street art experience was released: the kiss of two young people behind Piazza Bellini, right in front of the first destroyed drawing.
The kisses of Adriana Caccioppoli: a life lesson
Each drawing, from the appearance to the disappearance, tells a little of the many love stories that run through the streets of the city: first existential objective, then ignored from lives crushed by deadlines, schedules, appointments and commitments.
Today all the drawings have disappeared. But love stays there, in those photographs, for those who know how to tear it away from hasty lives who see it only as unknown wallpaper.
-Chiara Sarracino
Become a supporter!
With a small contribution you will keep the largest cultural dissemination site in Campania alive! Many advantages for you