Al mio segnale scatenate l'inferno!
Chi non conosce questa famosa frase detta da Russel Crowe nel film il Gladiatore?
There fama dei gladiatori nel mondo romano era enorme ed il loro mito è giunto fino ai nostri giorni. Al National archeologic museum è in corso una mostra che vi permetterà di conoscere il mondo dei gladiatori attraverso diversi reperti come tombe, scheletri, armi, cibo, gioielli e tanto altro ancora. Noi vi sveliamo qualche curiosità e vi aspettiamo per una visita guidata.
Munera gladiatoria
Gli spettacoli dei gladiatori definiti Munera, ossia doni, erano offerti gratuitamente al popolo dai magistrati durante l'anno di consolato. La popolazione attendeva con grande fermento l'evento e riceveva con largo anticipo informazioni dettagliate sul programma attraverso dei manifesti scritti sui muri della città. Lo show iniziava la sera precedente con una cena offerta dall'editor. Qui era possibile osservare i gladiatori e programmare le scommesse in base alle loro condizioni. Il giorno seguente una processione solenne apriva i Munera. Sfilavano l'organizzatore dei giochi, i gladiatori vestiti in pompa magna e gli inservienti che portavano scudi ed elmi dei combattenti. I musicisti accompagnavano il corteo e avevano il compito di creare un'atmosfera solenne ad inizio giochi e suspense nei momenti cruenti dei combattimenti. Il pubblico accorreva all'anfiteatro e, a secondo dello status sociale, prendeva posto nella cavea.
Vuoi vederli di persona? Prenota un tour con Eco delle Sirene cliccando qui!
Una giornata all'anfiteatro
Il programma della giornata iniziava la mattina presto con le cacce di animali and the esecuzioni capitali to bestias, definite così in quanto i condannati a morte entravano nell'arena senza armi di difesa e venivano sbranati da belve feroci. A mezzogiorno si passava a spettacoli di "intrattenimento": altro tipo di esecuzioni con rievocazioni mitologiche dal finale tragico nel quale i protagonisti morivano realmente. Il pomeriggio era il momento più atteso per i combattimenti dei gladiatori. Il pubblico si divideva principalmente in due tifoserie: the parmularii they scutarii. Al termine del combattimento, quando uno dei due gladiatori era a terra in fin di vita, il pubblico dava la propria opinione: comunicava con gesti ben definiti e gridava iugula (sgozza) o missum (libero) a seconda dell'esito desiderato.
Diventare gladiatore
I gladiatori erano principalmente reclutati tra gli schiavi, i condannati a morte e i prigionieri di guerra ma vi erano anche uomini che decidevano liberamente di sottomettersi al Lanista, ovvero l'impresario. Dopo il reclutamento il gladiatore entrava a far parte di una familia e iniziava un duro allenamento in apposite scuole. Ad una disciplina molto rigida, in cui non mancavano le punizioni, era affiancata un attenta cura del corpo e dell'alimentazione. La dieta era a base di cereali e legumi ed è per tale motivo che Plinio definì i gladiatori Horderaii, ossia mangiatori d'orzo. Speciali istruttori, i doctores, si occupavano delle reclute. Generalmente erano ex gladiatori affrancati che avevano ottenuto il rudis. A seconda delle armi usate ogni gladiatore veniva assegnato ad una determinata categoria: potevano essere traci, mirmilloni, reziari, scissori solo per citarne alcune. Durante gli spettacoli solitamente i due contendenti non appartenevano alla stessa categoria. In tal modo ogni gladiatore poteva mettere in risalto le abilità acquisite e il duello diventava più avvincente.
The Tirones era l'esordiente e dopo il primo combattimento diventava veteranus. Ogni gladiatore aveva una tavoletta di avorio che era come un documento d'identità. Essa riportava il suo nome, quello del lanista e le date delle vittorie. In base al numero e all'esito dei combattimenti il gladiatore poteva ricevere il titolo di primus palus e secundus palus, denominazione che proveniva dal palo di legno usato durante gli allenamenti. I vincitori ricevevano una palma e grosse somme di denaro. Ma il premio maggiormente desiderato era la spada di legno, il Rudis, grazie al quale era possibile cessare l'attività.
E non è tutto!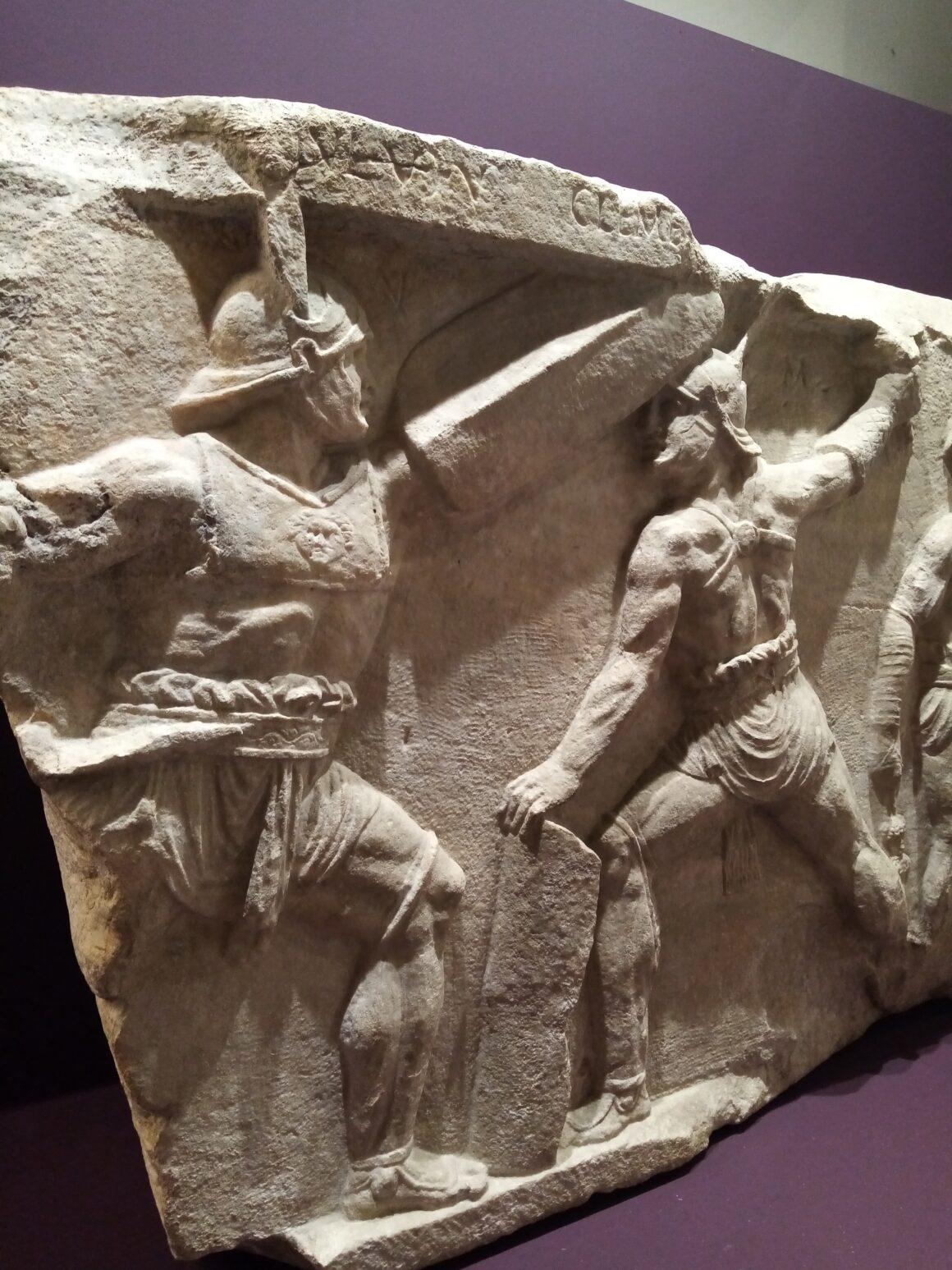 Vuoi scoprire altro sul mondo dei gladiatori?
Vieni con noi alla mostra organizzata al Museo Archeologico nazionale. Entreremo in contatto con questo "sport" su cui si è spesso fantasticato.
Ti aspettiamo Domenica 9 Maggio 2021 alle or 10:00 per una visita guidata dedicata a grandi e piccini. Per maggiori informazioni e prenotazioni Click here o chiama il 3402979546.
Become a supporter!
With a small contribution you will keep the largest cultural dissemination site in Campania alive! Many advantages for you