Borgo Orefici has become the first "talking district" of Naples.
We have indeed inaugurated the first path of 25 interactive tourist plaques of Naples, with codes QR for audio guides and English translations. In this path, which begins in front of the University and ends in Market Square, we told the names, stories and episodes related to the streets of this city to citizens and tourists, creating a cultural path that transforms us all in explorers of our own cities.
An intense work that lasted a year and a half, which has given the city a priceless tourist route.
We are already working for the Vomero plates: support us by donating here!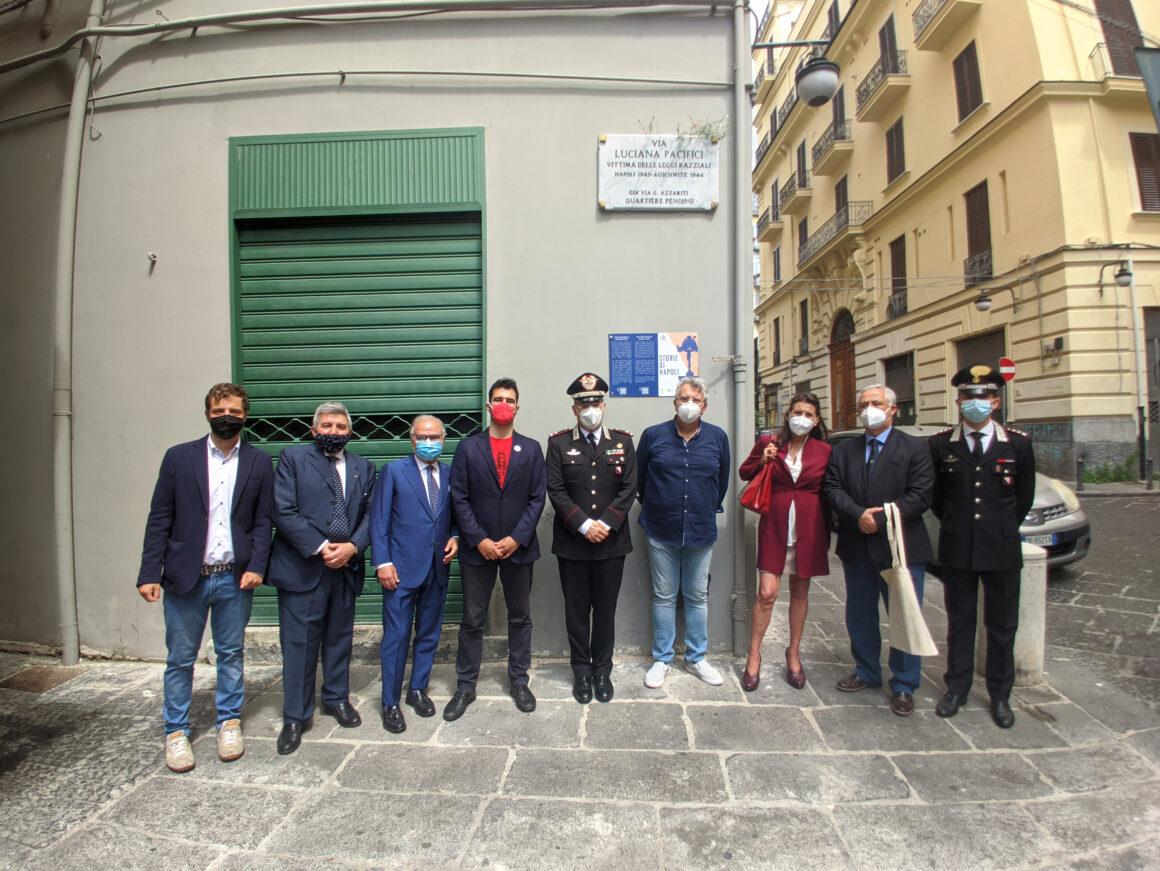 Human face plates
However, allow us to spend a few words to say the names of those who are behind this adventure, because it is difficult to imagine the human chain that they make these plates live as much as we who made them: inside that metal there are those who have done research in the library, those who have written and those who have paginated; our translators, the designer, the voice of the videos and whoever shot and edited them. Special thanks go to professor Alfredo Buccaro, who in the early stages of the project opened the doors of his studio to give us the best advice on history of Neapolitan town planning.
There is Roberto De Laurentiis, of the Antico Borgo Orefici Consortium, which opened the doors of the neighborhood to us; Francesco Paolo Esposito of the Residents Committee who, tirelessly, managed to find the posting permits from all the condominiums.
And again, the condominium administrators, the jewelers and neighborhood residents who helped us and gave us advice.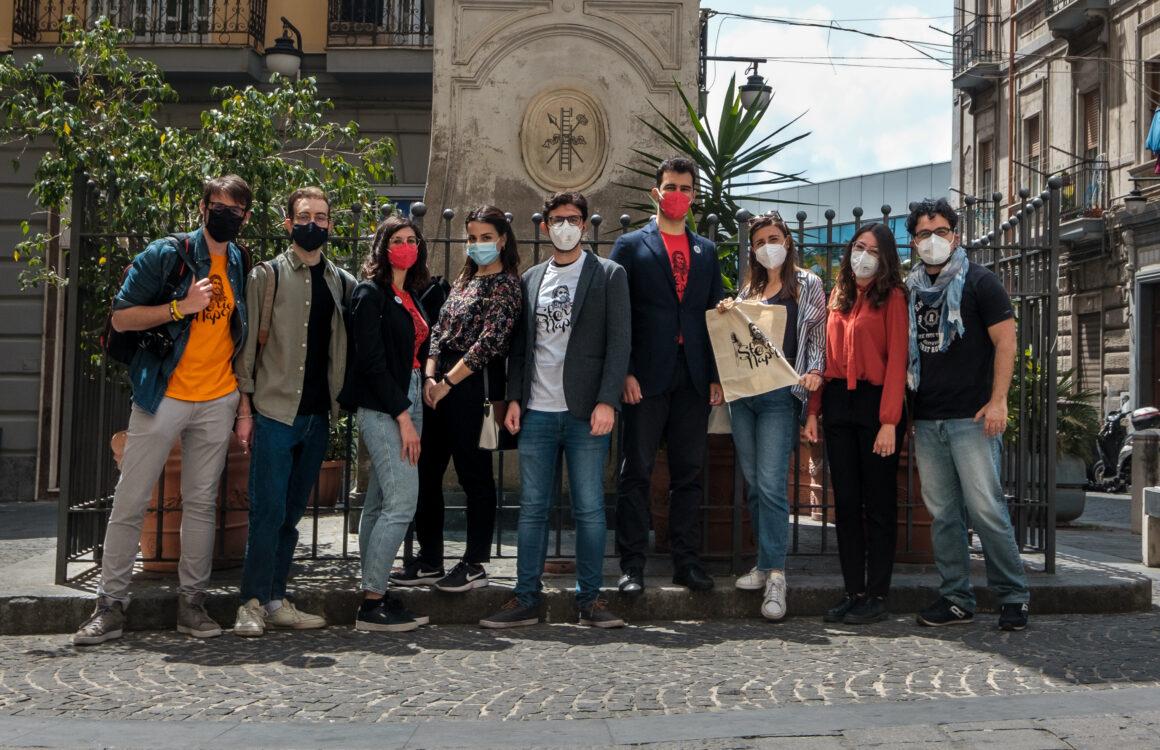 A beautiful opening
The inauguration took place in the presence of Nico Pirozzi, with his Memoriae project. The Municipality of Naples has been close to us and has granted us the patronage, fromPalmieri councilor in Galiero, with the essential support of Flavia Sorrentino.
We also got support from Campania Region, with the councilor for culture who wanted to personally compliment us, although not present at the event.
Today we also had the honor of receiving a visit from Brigadier General Giuseppe La Gala, of the Carabinieri. He himself spent important words on the project: "Congratulations on an initiative that allows you to show the beauty of Naples. Unfortunately we speak of this city only for negative facts but in these two years I have been able to appreciate the beauty of this city. My presence today, and that of the Carabinieri, has a strong meaning. To show the uniform as a "friend", a reassuring presence for all citizens. You shouldn't go to the Carabinieri only when you need to or when you have to file a complaint ". He then also launched an appeal: "Our presence today has a preventive purpose and invites everyone to report any useful information to the Carabinieri to prevent crime. The invitation is to dialogue with the Carabinieri and represent any suspicious situation without turning to the other side, pretending nothing has happened. Only in this way can the ideal model of participatory security be created".
In these lines there are dozens and dozens of intertwined destinies who worked to bring us here, in a symbolic photo.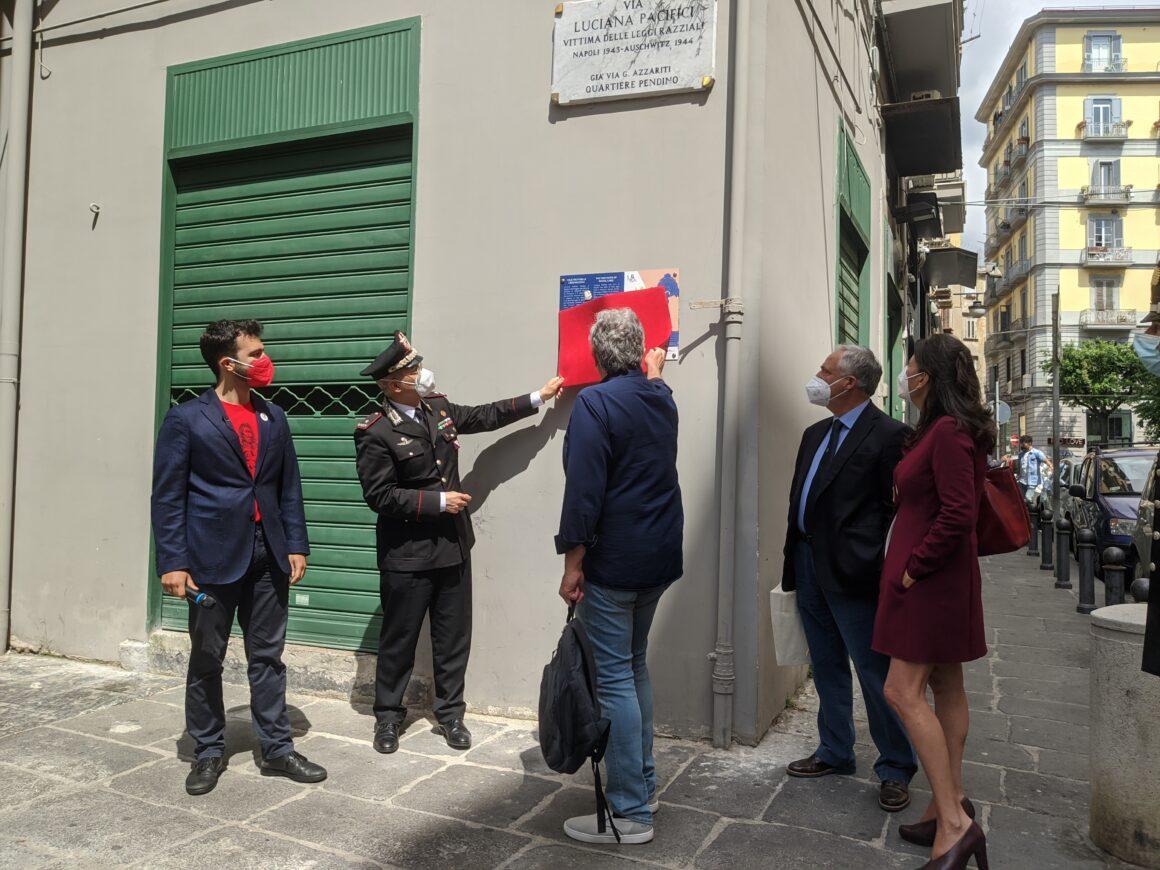 A gift to citizenship
This gift to citizenship was only made possible thanks to the support from the European Union, With the' National Youth Agency who funded the project after they arrived ninth in the national ranking on more than 1000 competitors.
We dedicate this adventure to the memory of Gino Doria, which guided and inspired us in our work: every street today has its own story again that it will be able to tell passers-by.
Like this one day a Ligurian may pass by and discover that someone with his surname has lived in the Loggia of Genoa, or a Florentine or a Frenchman will find himself in Rua Toscana and Francesca and will have the same feeling that makes us Italians smile when we find streets and places dedicated to our homeland abroad.
Naples is rediscovered once again as a meeting point for Italian and European cultures. Just read our plates to find out!
Become a supporter!
We have decided to remove advertisements from the website to ensure maximum enjoyment of our stories. However, we need financial support to keep our editorial activities alive: join the supporters of our platform, for you many advantages and preview videos!