Il Borgo Orefici è diventato il primo "quartiere parlante" di Napoli.
Abbiamo infatti inaugurato il primo percorso di 25 targhe turistiche interattive di Napoli, con codici QR per le audioguide e traduzioni in inglese. In questo percorso, che comincia di fronte all'Università e finisce a Market Square, abbiamo raccontato i nomi, le storie e gli episodi legati alle strade di questa città ai cittadini e ai turisti, creando un percorso culturale che ci trasforma tutti in esploratori delle nostre stesse città.
Un lavoro intenso durato un anno e mezzo, che ha regalato alla città un percorso turistico dal valore inestimabile.
Stiamo già lavorando per le targhe del Vomero: sostienici donando qui!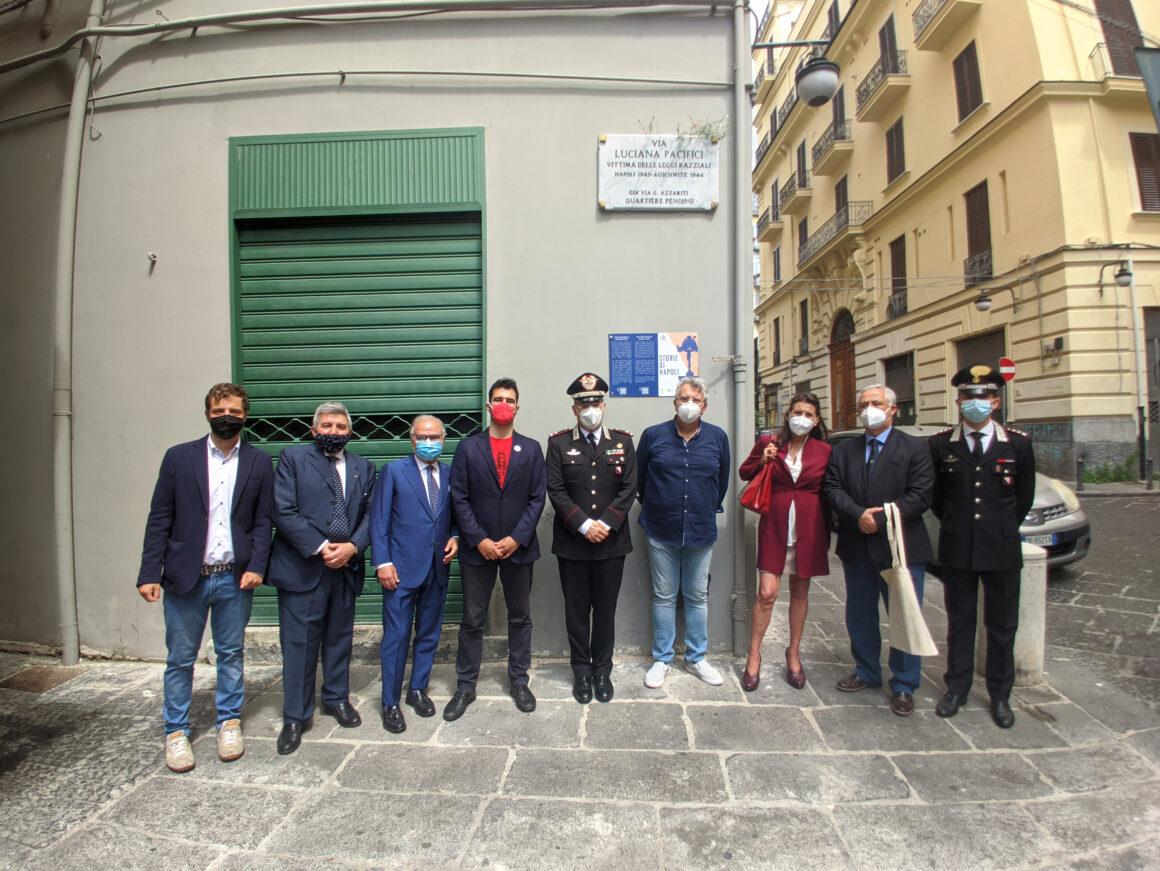 Targhe dal volto umano
Permetteteci però di spendere due parole per dire i nomi di chi c'è dietro quest'avventura, perché è difficile immaginare la catena umana che rendono queste targhe vive tanto quanto noi che le abbiamo realizzate: dentro quel metallo c'è chi ha fatto ricerche in biblioteca, chi ha scritto e chi ha impaginato; le nostre traduttrici, la disegnatrice, la voce dei video e chi li ha girati e montati. Un ringraziamento speciale va al professor Alfredo Buccaro, che nelle fasi iniziali del progetto ha aperto le porte del suo studio per darci i migliori consigli sulla storia dell'urbanistica napoletana.
There is Roberto De Laurentiis, of the Consorzio Antico Borgo Orefici, che ci ha aperto le porte del quartiere; Francesco Paolo Esposito del Comitato Residenti che, infaticabile, è riuscito a trovare i permessi di affissione da tutti i condomini.
E ancora, gli amministratori di condominio, le gioiellerie e i residenti del quartiere che ci hanno aiutato e dato consigli.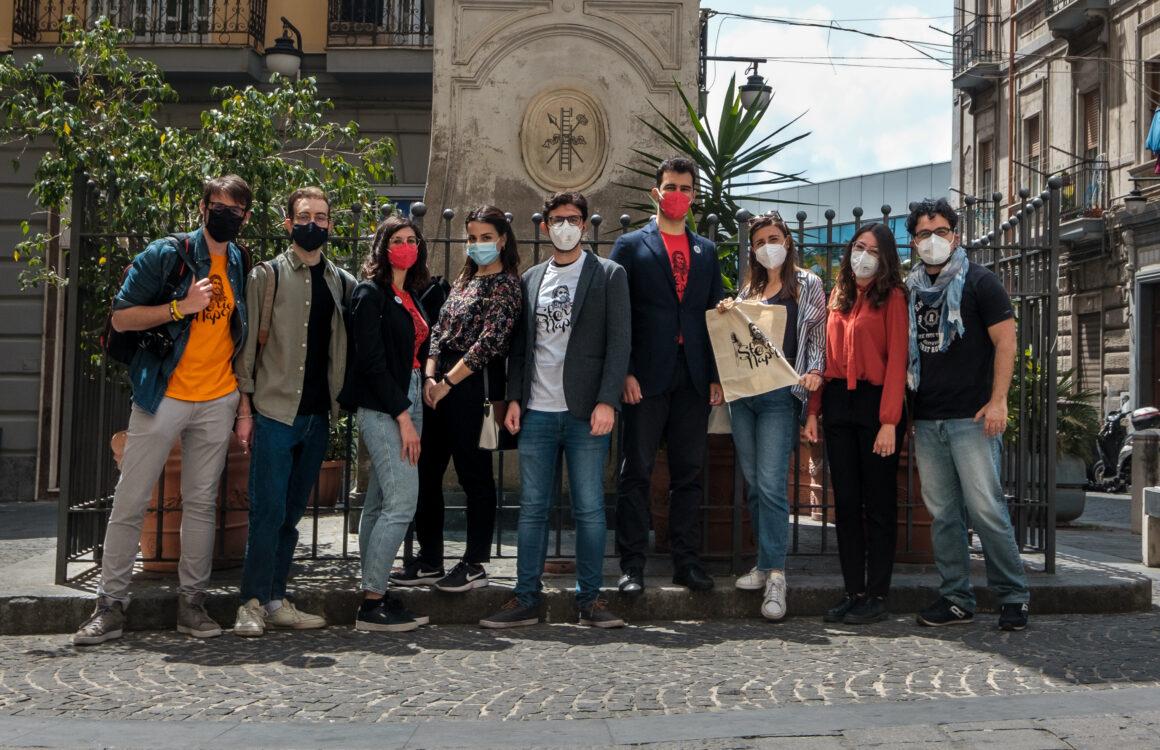 Un'inaugurazione bellissima
L'inaugurazione è avvenuta alla presenza di Nico Pirozzi, con il suo progetto Memoriae. Il Municipality of Naples ci è stato vicino e ci ha concesso il patrocinio, dall'assessore Palmieri a Galiero, con il supporto essenziale di Flavia Sorrentino.
Abbiamo avuto sostegno anche dalla Campania Region, con l'assessore alla cultura che si è voluto complimentare personalmente con noi, per quanto non presente all'evento.
Oggi abbiamo avuto anche l'onore di ricevere la visita del Generale di Brigata Giuseppe La Gala, dell'Arma dei Carabinieri. Proprio lui ha speso parole importanti sul progetto: "Complimenti per un'iniziativa che consente di mostrare il bello di Napoli. Purtroppo si parla di questa città solo per fatti negativi ma in questi due anni ho potuto apprezzare la bellezza di questa città. La mia presenza oggi, e quella dei Carabinieri, ha un significato forte. Quello di mostrare l'uniforme come "amica", una presenza rassicurante per tutti i cittadini. Non bisogna andare dai Carabinieri solo quando si ha bisogno o quando si deve presentare una denuncia". Ha poi anche lanciato un appello: "La nostra presenza, oggi, ha una finalità preventiva e invitare tutti a segnalare ai Carabinieri ogni notizia utile per prevenire la criminalità. L'Invito è quello di dialogare con i Carabinieri e rappresentare ogni situazione sospetta senza girarsi dall'altra parte, facendo finta di nulla. Solo così si potrà creare il modello ideale di sicurezza partecipata".
In queste righe ci sono decine e decine di destini intrecciati che hanno lavorato per portarci qui, in una foto simbolica.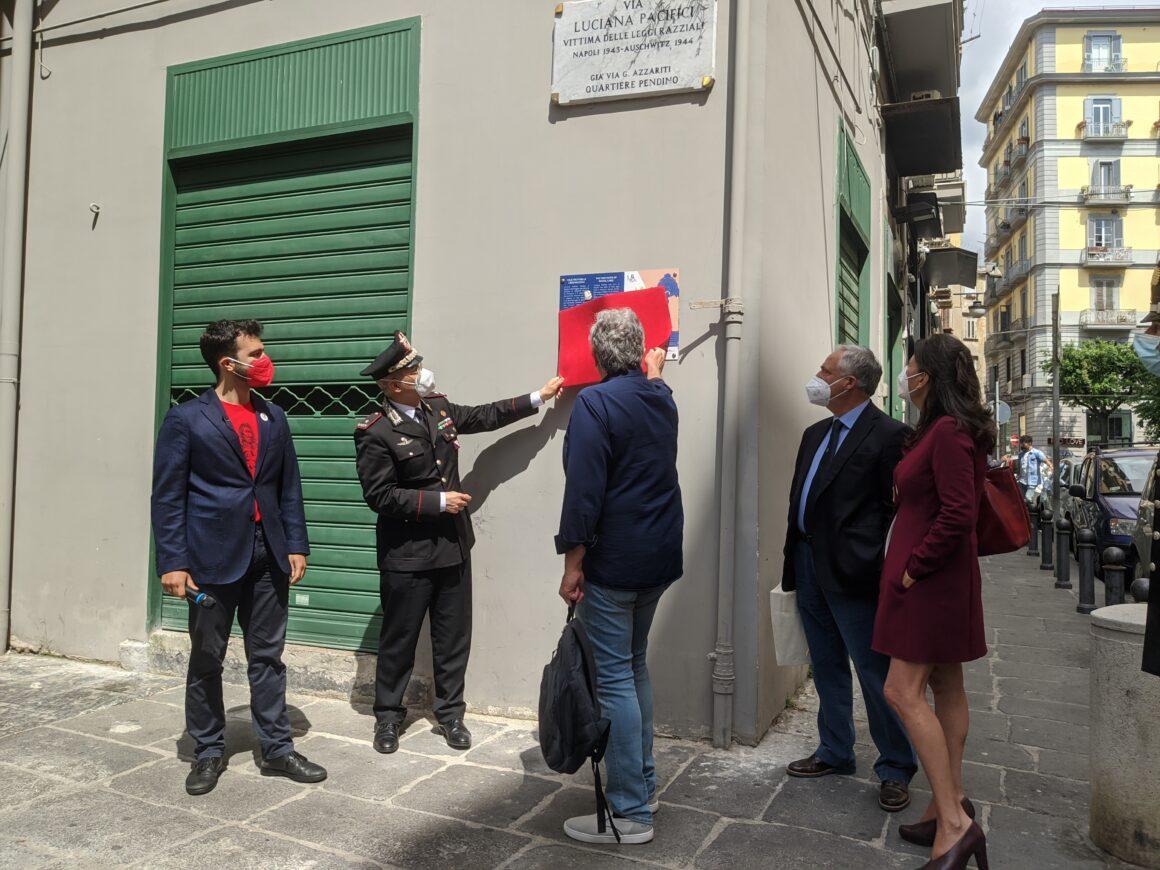 Un regalo alla cittadinanza
This regalo alla cittadinanza è stato reso possibile solo grazie al sostegno dell'Unione Europea, con l' National Youth Agency che ha finanziato il progetto dopo essere arrivati noni in graduatoria nazionale su più di 1000 concorrenti.
Dedichiamo quest'avventura alla memoria di Gino Doria, che ci ha guidato e ispirato nel lavoro: ogni strada oggi ha di nuovo la sua storia che potrà raccontare ai passanti.
Like this un giorno potrà passare un ligure e scoprire che qualcuno con il suo cognome ha vissuto nella Loggia di Genova, oppure un fiorentino o un francese si ritroverà in Rua Toscana e Francesca ed avrà la stessa sensazione che strappa un sorriso a noi italiani quando troviamo strade e luoghi dedicati alla nostra patria all'estero.
Napoli si riscopre di nuovo come punto d'incontro di culture italiane ed europee. Basta leggere le nostre targhe per scoprirlo!
Become a supporter!
With a small contribution you will keep the largest cultural dissemination site in Campania alive! Many advantages for you