The walls of Salerno give voice to Alfonso Gatto, poet and writer of the '900. His hometown today remembers him in a particular way: by making anyone who walks its streets discover or remember his words.
A form of Street Art dedicated to Alfonso Gatto
The last light of the sunset turns off the sky from its colors, as I walk towards the most popular area of Salerno. I enter the luster of the shops and the din of the crowd and I see in a side street, Vicolo S. Bonosio, a sentence painted on the wall
"Maybe love is always another love
and the smell when I remember another smell,
where in the walls the houses come close to each other,
where in the cool darkness of kisses the street is narrow".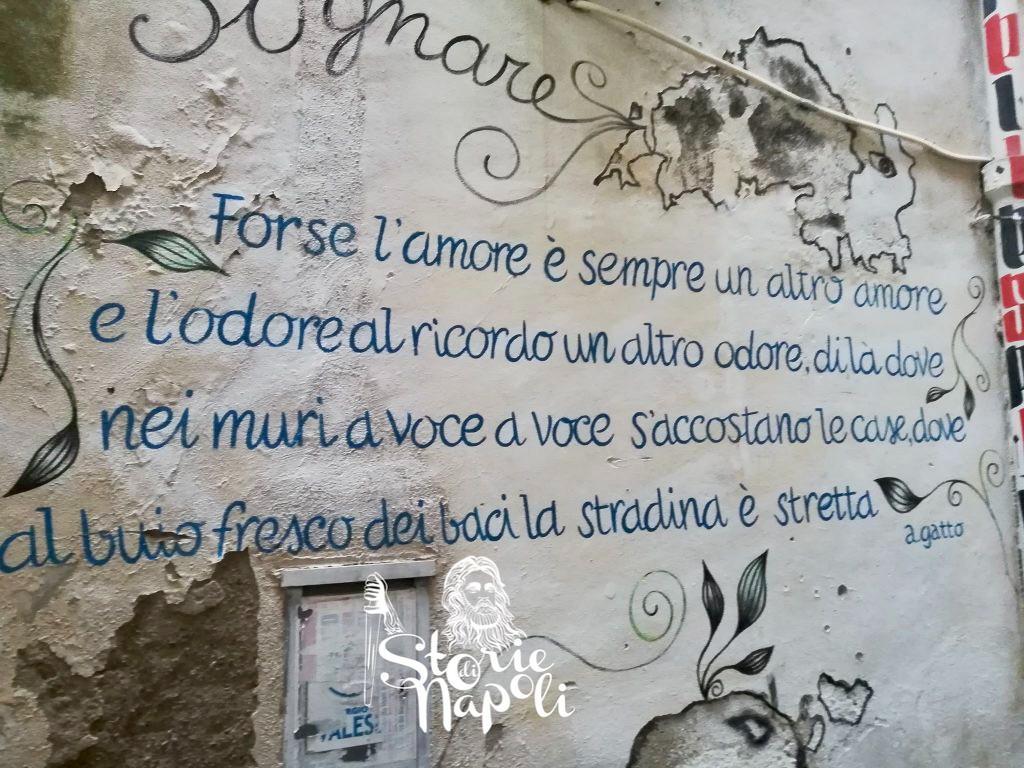 There is another and another, all signed with the same name: "Alfonso Gatto".
It is a particular form of street art the one that adorns the alleys of Salerno, the sentences are marked in italics, with a thin line, as if just written on a white page.
From an initiative carried out by the foundation chaired by the poet's nephew Filippo Trotta with the artistic direction of GreenPino alias Pino Roscigno, the words of the author live in the streets of his hometown, the one that accompanied his stormy adolescence.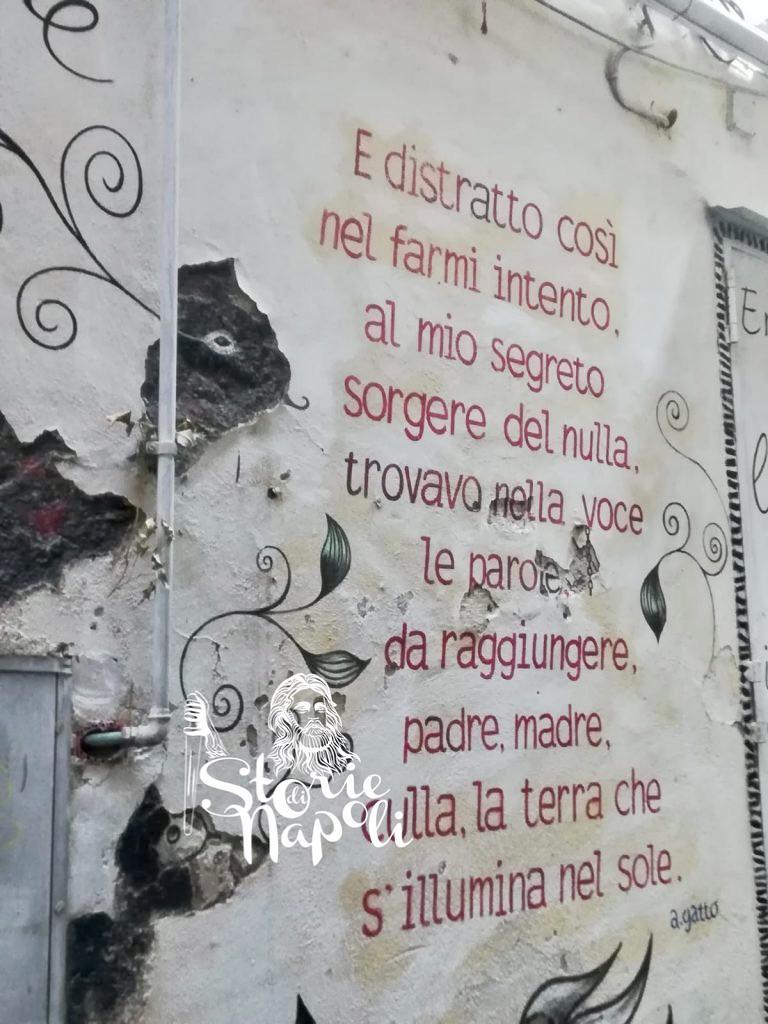 The story of Alfonso Gatto
Due to the difficult economic condition of his family of sailors, Alfonso Gatto had to abandon his studies. He did various jobs to be able to cultivate a love of literature despite the impediments.
A passion that finally materialized with the publication of the newspaper "Field of Mars", Founded in collaboration with Vasco Pratolini. It was a magazine that was supposed to educate the population in art, defending it from the fascist regime, but which only lasted a year due to controversy.
Anti-fascist and actively involved in the political struggle, he later wrote for the newspapers Rebirth e Unity, highlighting his link with Hermetic and Pascoli poetry and in particular his own communist ideals. After the many failures he was able, little by little, to express his art that will be remembered and made eternal.
Buried at his death in Salerno, the words of his friend are written on the tombstone Eugenio Montale: "To Alfonso Gatto for whom life and poetry were a single testimony of love".
So after years the paper that whispers only to an attentive and now uncommon reader becomes a wall that screams. Letters faded by time become manifest under the eyes until a few moments ago distracted by those who, like me, walk the streets absorbed in their own thoughts.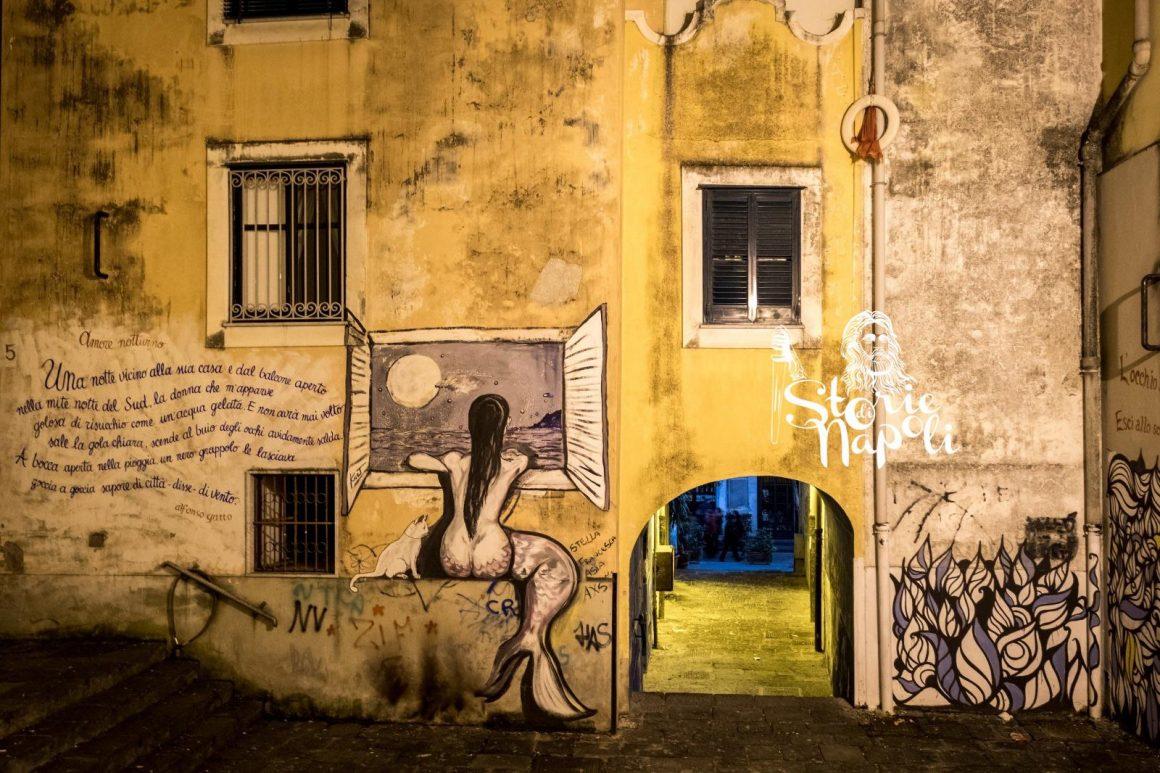 Laura d'Avossa
Become a supporter!
With a small contribution you will keep the largest cultural dissemination site in Campania alive! Many advantages for you