Filippo Cifariello was a well-known Italian sculptor, originally from Puglia, who spent a good part of his life and his last moments in Naples, however, he was among the first residents of the new Rione Vomero. His life was very tormented, characterized by a difficult character, a multitude of unhappy events and one mental health precarious, which had him stained with the murder of his wife and which would lead to his death, years later.
Humble origins and success
Filippo Cifariello was born in 1864, shortly after the unification of Italy, in Molfetta. He was the son of Ferdinando Cifariello, an Apulian singer, who ended up in misery when his eldest son was still very young. The need for money quickly brought out the artistic vein of the young Filippo, who began his experience with sculpture through the modeling of small clay busts, which earned him the opportunity to continue his artistic training, accessing theAcademy of fine arts of Naples, where he had the opportunity to meet other prominent Neapolitan artists, such as Gioacchino Toma, Achille d'Orsi and Vincenzo Gemito.
After the experience in the academy, his career took off quickly, soon finding himself organizing exhibitions of his own "realist" sculptures and also receiving prizes. In 1889, his works were hosted at theUniversal Exhibition of Paris. In 1890, he participated in theRome Exhibition and in 1899 he exhibited his art also at the Venice Biennale and subsequently received an important honor from King Umberto I: the Order of the Crown of Italy.
During his career, in particular between the end of the 19th century and the beginning of the 20th century, he was the author of many sculptures, both of a monumental nature, such as the statue dedicated to Umberto I in Bari, and for private collections, in the field of portraiture. He continued to sculpt throughout his life.
It was honorary professor of the Academy of Fine Arts and received international honors, such as the Order of Francis Joseph ofHabsburg and the title of Officer of the Crown of Russia. In 1931 he wrote an autobiography, "Three lives in a".
Today, many of his works are housed in museums and prestigious private collections.
The decline and death
During the last decade of the 19th century he lived in Rome and right there he met the French singer Maria de Browne, with whom he became infatuated. She would become his first wife in 1894. Between the two there was a very complicated relationship, alternating phases of mutual attraction with phases of disinterest and on which the career of the couple also raged: he, a sculptor now known even beyond the Italian borders and therefore very busy, she a singer of moderate success, who, for work, was often far from her husband.
At first, the two moved to a small town in Bavaria, where Filippo Cifariello had got a job in a pottery factory. Maria de Browne, on the other hand, continued her duties in Rome and abroad. The two stayed apart for about a year, after which Philip returned to live in Rome. The couple was less and less close-knit, until they finally distanced themselves, in 1905.
One morning in August of that same year, Cifariello, who had taken a room in a boarding house in Posillipo for some work to be carried out in Naples, he unexpectedly met his wife Maria, in the company of a well-known Neapolitan lawyer, who had come out of the same room as her. After an argument with the woman he was still in love with, the sculptor was furious.
That same day, after a moment of apparent calm, following the quarrel, Filippo Cifariello's instability manifested itself in the worst way: he took a pistol he carried with him and repeatedly shot his wife, taking her life.
The event was prominent for a long time in the newspapers of the time. Cifariello should have undergone a trial for the murder he had committed, so he decided not to spare any expenses and chose for his defense an illustrious Neapolitan lawyer, the great orator Gaetano Manfredi (to which a street a Capodimonte).
Manfredi managed to clear his client, also relying on public opinion of the time, which came to regard the killer as a victim, describing Maria de Browne as a woman who was assiduous to betrayal and Cifariello as a poor suffering man, with a broken heart: in 1908, thanks to a jury completely convinced by the brilliant lawyer, the sentence was expressed in favor of the artist, as he was judged to be mentally ill, he was thus acquitted of the crime committed.
The same Ferdinando Russo he wrote an article in his favor in the newspaper "Il Mattino".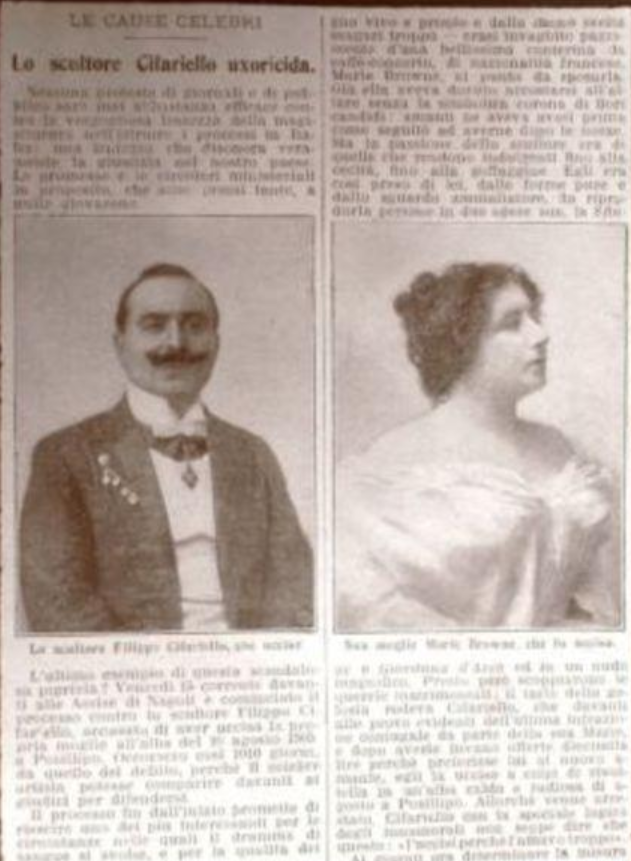 But that was not the last love, nor the last death of a person dear to Filippo Cifariello: the artist, in fact, remarried, in 1914, with a much younger woman than him, Evelina Fabi, with whom he moved in a house in Vomero and that died shortly after the wedding, for a domestic accident with a stove that caused her to suffer severe burns.
The third and last marriage of the unfortunate Cifariello, dated 1928, was with Anna Maria Marzell, a German woman, with whom he had two children, Filippo and Antonio. It turned out to be more stable and long-lasting than the previous two, however Filippo Cifariello's mental health became increasingly precarious, causing him to fall into a deep depression, which culminated in the suicide, which took place in the place most dear to the artist, his studio in via Francesco Solimena, in Vomero, in 1936.
The death trail that haunted the artist, however, did not stop there: his son Antonio, an actor, also lost his life very young, at the age of 38, following a plane crash during a trip to Africa. Even his lawyer, Gaetano Manfredi, died prematurely: committed suicide during a train ride at the age of 63.
Today a street in the Vomero district is dedicated to Filippo Cifariello, where he worked for years on his art.
-Leonardo Quagliuolo
For more:
"The new streets of Naples"By Gianni Infusino
"Filippo Cifariello: story of a murderer"By Antonietta Ferrante
Chieracostui - Gaetano Manfredi
Become a supporter!
With a small contribution you will keep the largest cultural dissemination site in Campania alive! Many advantages for you