Micco Spadaro, more than just a painter: through his art, he created a bridge between the present and the viceregal Naples of the seventeenth century, a true photojournalist of yesteryear. In fact, the subjects of his most famous paintings are not portraits of posed nobles or inflated religious scenes, but crude and panoramic representations of events, often brutal and dramatic, which have marked the history of Naples and which he witnessed in the first person; events that the author tells without excluding details.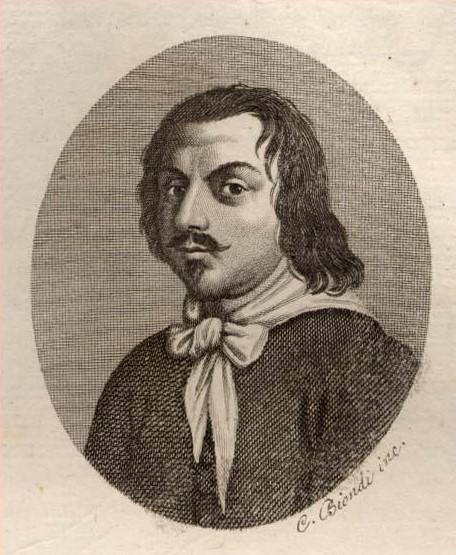 A failed blacksmith
Domenico, known as "Micco", son of Pietro Antonio Gargiulo, manufacturer of swords (hence the nickname "Spadaro"), showed disinterest in paternal activity, at least equal to the great interest he had in drawing, especially in the depiction of cities and landscapes.
Born and raised in the historic center of Naples, when Micco expressed his desire to receive an education and to deepen his interest in the visual arts, the father answered with a sharp no: he had to work and continue the family business.
Resigned, the young artist he offered no resistance to his parent, agreeing to devote himself full time to sword making, in the family shop. However, he did not completely put aside his artistic nature, which he expressed with the design and creation of particular sword handles.
His work was so popular that he received many commissions for his particular decorated handles from his father's clients. Such encouragement sparked the spark that rekindled his passion for drawing, so, secretly from his father's eyes, he began to copy the landscapes depicted on prints by great authors of his time, to try to steal the secrets of their techniques. However, Pietro Antonio found out. Many discussions followed and, as he in no way succeeded in dissuading the young Domenico from giving up his dream of becoming an artist, drove him out of the house.
Under the wing of Falcone
For a long time, "Micco", as he used to be called, wandered in search of some stability, after being thrown out of the house. He survived by selling his designs and he managed, only for a short time, to be hosted by an uncle, with whom however he could not stay, as he too was very poor.
At about eighteen, however, he had a meeting that changed his life: he met Carlo Coppola on the street, a customer of his father's workshop, a fencing enthusiast, with whom he had made a sword handle and with whom he had become a friend thanks to the his previous employment.
It happens that Carlo was a painter, pupil of Aniello Falcone: in fact, seeing his friend Micco in such a miserable situation, he made him a proposal "which he could not refuse": he wanted to introduce him to his teacher, one of the most famous Neapolitan painters of the time. The latter, moved by Domenico's story, decided to accept to host him at his home and instruct him.
Living together with many other young and talented Neapolitan artists, including, in addition to his friend Carlo Coppola, also Salvator Rosa, Domenico was able to perfect his techniques, until the name of "Micco Spadaro", as he used to sign, began to spread, thanks to his many paintings sold.
The revolt of 1647
The regular and fruitful activities of Aniello Falcone's school of painting were abruptly interrupted in the fateful 1647, as the well-known painter was personally struck by a tragedy, which introduced him in the darkest period of his life: a relative of his, after a quarrel with some Spanish soldiers, was murdered by them. Falcone, who already did not take kindly to the bullying and abuses of the Spaniards in the city, he decided to join the riots.
But he did not limit himself to this, he was thirsty for revenge for the oppression he suffered. He gathered support from his disciples and friends to organize the "Company of death", A handful of armed men who, taking advantage of the chaos of the revolution Masaniello, was intended to assassinate the Spanish soldiers with whom they had unfinished business.
During this bloody parenthesis, Micco Spadaro, who took refuge in a convent with some colleagues, he found the inspiration to create some of his most famous works, in which he crudely depicted the terrible actions of the angry crowd of Neapolitan citizens who finally had the opportunity to savor the sensation of having the knife on the side of the handle.
Among his best known representations, there is the death of Giuseppe Carafa, brother of the fearsome Diomedes V, or a wide view on Market square showing the scenes of the outbreak of the Masaniello revolt. He also painted a portrait of the populace himself, an exception to his usual type of depictions.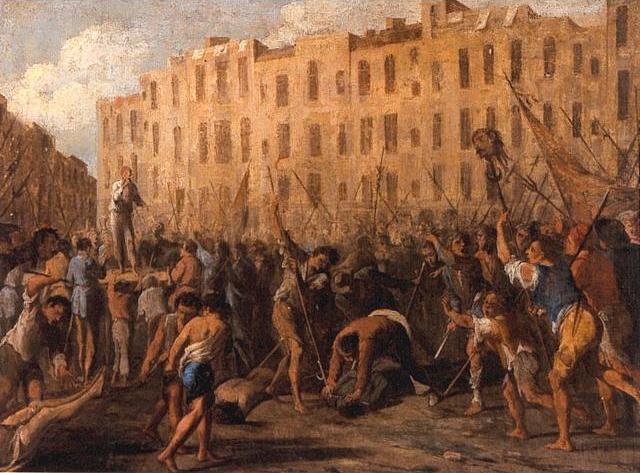 In his paintings, Domenico shows, with a broad view, the chaos and violence that characterized those months, in which a people in poverty, represented by crowds armed at best and dressed in rags, took the opportunity to give vent to all the frustrations accumulated over the years due to the arrogance of the local nobility.
With the death of Masaniello and the riots that were gradually suffocated with blood, the Company of Aniello Falcone ceased its activity and its members returned to their duties. Nothing happened to the painters, perhaps thanks to the intercession of Giuseppe Ribera, said "the Spagnoletto", Dear friend of Falcone, as well as one of the favorite painters of the viceroy and the king of Spain himself. In fact, Philip IV appears to have had more paintings by Ribera than any other painter in his collection.
The pinnacle of career
Before, during and after the revolution of 1647, Micco Spadaro he never stopped painting. His name spread more and more among the clients, also arriving abroad. Among the names of his most prominent customers are Caracciolo, Carafa and even Cardinal Ascanio Filomarino. It was in Spain that a painting by Spadaro struck the painter very much Luca Giordano, who, having returned to Naples, he wanted to know Micco at all costs, of which he became a great friend and with whom he collaborated for some works. In those years, Spadaro also made friends with Andrea Vaccaro, becoming a frequent visitor to his home.
His art was conditioned not only by his many illustrious masters, but also by the constant climate of friendship mixed with a touch ofenvy of Salvator Rosa, with which he was indirectly in competition: Micco used to carefully follow the events concerning his colleague and inquire about the latest works he had produced, trying to do the same.
For example, hearing of the success that Salvator Rosa was having in Rome, Micco Spadaro wanted to imitate his subjects. If One drew landscapes or saints, the other did too. If one used very large canvases, the other was no exception.
The plague in Naples
In 1656, one broke out terrible epidemic of plague in Naples, yet another event that put a strain on the already very tried population, which would have been decimated. Among the dead were some of Micco's closest friends, including the man who made him his patron, Aniello Falcone.
Micco, however, once again saved himself from misfortune, thanks to Cardinal Filomarino: he was housed in a monastery, as long as he repaid the hospitality with his work.
In that period, he created another of his most famous works, depicting the hospital that had been set up at the "large market", Today Dante square. There was also a painting made as an ex voto for the end of the epidemic.
The last years and death
Micco Spadaro's artistic activity was prolific even after the massacre caused by the plague. He stayed to live in Naples, where he was well known and appreciated. He continued to educate the students who attended his laboratory until his death.
Despite the chaotic and tumultuous events he had experienced, it was a far less egregious little domestic accident that ended his life. One day between 1675 and 1679, Domenico, now in his seventies, burly and with a view that was beginning to decline, suffered a bad fall in his home, in the Avvocata district. A few days later, his condition worsened and he died.
Traces of many of his pupils have been lost, but today their paintings, as well as those of their teacher, are part of rich private and even museum collections, where they can be under the eyes of all, just as Micco Spadaro would have liked.
-Leonardo Quagliuolo
For more:
"Life of painters ed Neapolitan architects" by Bernardo De Dominici
"The company of death between reality and legend" by Maria Gaia Redavid
Become a supporter!
With a small contribution you will keep the largest cultural dissemination site in Campania alive! Many advantages for you