Nel controverso scenario medioevale meridionale la figura di Gisulfo II di Salerno segna la 结尾 del principato longobardo e l'inizio della dominazione normanna.
Il principe Gisulfo II di Salerno
出生在 萨莱诺 intorno l'anno 1030, Gisulfo era figlio del principe 瓜伊马里奥四世 e di sua moglie Gemma.
Da giovanissimo prende parte alle campagne militari del padre e la sua ferocia in campo militare prima e politico poi creano un alone di 邪恶 attorno al personaggio, anche se smentita successivamente.
Si narra infatti:
"Di una sfortunata vittima [un amalfitano] che Gisulfo teneva prigioniero in una gelida cella, al quale prima tolse l'occhio destro, poi ogni giorno un dito della mano e del piede."

John Julius Norwich, The Normans in the South
Reso co-reggente dal padre del principato di 萨莱诺, si ritrovò a tessere le trame dei confini dell'Italia meridionale ai tempi divisa tra 伦巴第, 诺曼人 和 拜占庭人.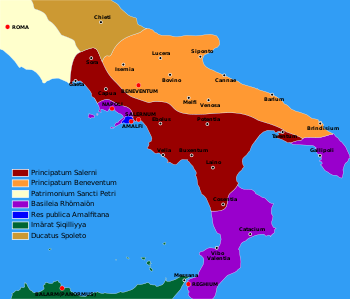 La congiura
Il padre di 吉索福, 瓜伊马里奥四世, anche se spesso indicato come Guaimario V, era diventato nel tempo, grazie ad abilità politiche e militari, il principe più potente del Mezzogiorno d'Italia.
Sotto il suo dominio infatti non solo 萨莱诺, diventata capitale, ma anche il ducato di 普利亚 和 卡拉布里亚, 加埃塔, 阿马尔菲, 卡普阿 和 索伦托.
Uomo dall'indubbio valore morale, prima degli altri comprese il potenziale normanno e rese il loro capo Rainulfo Drengot un importante 盟友, da questa amicizia fruttuosa ebbe il riconoscimento dei suoi domini, ancora giuridicamente 拜占庭人 e legittimò il potere dell'associato, rendendolo suo vassallo 和 conte 的 阿维萨.
Un potere simile attirò innumerevoli nemici ed antipatie, che si concretizzarono in una congiura nel giugno 1052 quando fu assassinato, nei pressi del porto di Salerno, dai suoi quattro cognati sostenuti da amalfitani 和 拜占庭人, che rapirono il giovane Gisulfo II.
Gli alleati normanni, fedeli alla famiglia assediarono la città e cacciarono i congiurati, salvando così il giovane dalla sua condizione di ostaggio, e contribuendo alla sua legittimazione come nuovo principe.
Il principato di Gisulfo II
A seguito della tragica vicenda, Gisulfo II succedette al padre e iniziò ad esercitare il suo 力量.
Lontano dalla visione paterna, il neo principe fu furente nei confronti degli amalfitani e non risultò diplomatico neanche con gli alleati normanni con i quali gradualmente deteriorò i rapporti.
Roberto d'Altavilla, detto il Guiscardo, condottiero normanno di grande fama, in virtù del comportamento del giovane, conquistò con le sue armate i territori calabresi appartenenti al principato di Salerno.
Durante il suo regno, persino il conte Riccardo Drengot, vassallo e amico del padre, divenne un nemico che per poco non gli costò la corona, salvata solamente da un'alleanza improbabile con gli amalfitani.
Le successive riconciliazioni vennero sopite dallo stesso Gisulfo che sottrasse il suo sostegno alle truppe normanne in più occasioni, incrementando l'avversità dei potentati locali nei suoi confronti.
In mare la sua flotta divenne protagonista di azioni di pirateria nei confronti di navi pisane e amalfitane, strategia che, dopo essersi alienato persino il rapporto con il pontefice Gregorio VII, il quale intimò alla duchessa di Toscana di invadere i domini del principe longobardo, portò i suoi frutti logorando l'armata.
La fine di Gisulfo II
Isolato, senza alleati, normanni, amalfitani e persino longobardi stanchi del comportamento del proprio principe, assediarono la città di Salerno.
Nonostante le truppe nemiche al di là delle mura, Gisulfo II continuò a vivere di agi e comodità grazie al sequestro di ori dalle chiese e di una parte consistente delle scorte di viveri cittadine.
Il 13 dicembre del 1076 il principe si arrese e tutti i suoi domini passarono nelle mani normanne.
Gisulfo si rifugiò prima a 卡普阿, dove provò, senza successo, a riprendersi il suo regno, poi a 罗马 ed infine dalla sorella Gaitelgrima a Sarno, dove morì nel 1090.
资料来源:
John Julius Norwich, I Normanni nel Sud: 1016-1130. Mursia, Milano 1971
成为支持者!
只需一点点贡献,您就可以让坎帕尼亚最大的文化传播网站保持活力!为您带来诸多优势