C'era un tempo in cui il lungomare Trieste era il teatro del Gran Premio di Salerno, dove sfrecciavano piloti giovanissimi che, un giorno, sarebbero diventati campioni di Formula 1. Si trattava infatti di una gara di Formula 3, la categoria degli esordienti. Ma questo non frenava l'entusiasmo dei salernitani, che si ammassavano ai bordi delle strade per assistere ad uno spettacolo di potenza pura, che infiammava i sogni di chi visse gli anni '50 e '60. E ancora oggi ci sono tanti adulti che, cresciuti in quei 7 anni di motori, dicono con una punta di orgoglio: "Salerno era meglio di Montecarlo!".
Were tempi di leggende e di pionieri del motore, che gareggiavano con auto modificate nottetempo nei propri garage, dagli scarichi rumorosissimi and from charm ancora oggi tramandato nei racconti di chi rischiò almeno una volta la pelle su quelle monoposto.
Erano infatti tempi in cui ogni curva poteva essere l'ultima della vita. E infatti proprio il mare turchese di Salerno fu la tomba di diversi sfortunati piloti.
At the origins of the automobile
Gli anni '50 furono tempi di grande entusiasmo verso il mondo dell'automobile: il miracolo economico italiano stava cominciando a portare nuovi lussi e nuovi standard fra le famiglie che, fino a vent'anni prima, non avrebbero potuto nemmeno sognare un mezzo di trasporto privato. E invece l'automobile, quasi come un gesto di riscatto sociale, arrivò nelle case. E la sensazione di brio che dà una scalata di marcia cominciò a far interessare un'intera generazione al mondo delle quattro ruote. Non meravigliamoci insomma se il Beautiful country, con le sue auto e i suoi piloti leggendari, dominava negli anni '50 tutti i gran premi.
Il mondo delle corse automobilistiche era composto quasi esclusivamente da ricchi, che investivano i propri patrimoni in hobby pericolosissimi: there Campania può vantare fenomeni come Maria Teresa De Filippis, la prima donna pilota, o Peppe 'a Clutch, l'asso del Gran Turismo. Anche a Salerno si diffuse la febbre del motore e il primo circuito aperto dall'Automobile Club del capoluogo fu negli anni '40: prima la Cetara-Capo d'Orso e subito dopo la Atrani-Ravello. Were due gare di velocità che si sviluppavano sulla scena mozzafiato della Costiera Amalfitana.
Le gare ebbero un successo tale, sia a livello mediatico che di partecipazione, che L'Automobile Club di Salerno decise di organizzare una competizione in città.
Il Gran Premio di Salerno, un'avventura durata poco
Il 6 settembre 1953 fu tagliato il nastro della prima competizione sul lungomare di Salerno. Si chiamava inizialmente "Circuito di Salerno", ma il successo fu tale e tanto travolgente da far mutare subito il nome in "Gran Premio di Salerno", che era ben più altisonante. Then again, anche Napoli aveva il suo Gran Premio, l'altro capoluogo non poteva non averne uno tutto suo.
Le gare duravano per tutto il weekend, dal venerdì alla domenica, con tanto di prove: si stima (perché non esistono conteggi precisi ufficiali) che ci fossero almeno 50.000 persone radunate sul lungomare di Salerno. Se pensiamo che nel 1951 in città erano presenti 90.000 residenti, possiamo avere la proporzione colossale dell'evento, rispetto alle dimensioni della città. Il primo trofeo fu vinto da una leggenda dell'automobilismo italiano, il costruttore\pilota Berardo Taraschi, originario di Teramo. Fu uno dei più amati piloti e costruttori di Formula 1.
There difficoltà nei conteggi la possiamo capire guardando le photos: erano ammassate decine di persone sui balconi (alcuni addirittura erano fittati), altri ancora si spiaccicavano all'altezza delle curve, altri ancora lungo i pavements delle strade, contro ogni basilare norma di sicurezza. Non esistevano per giunta reti protettive, guard rail e altri oggetti di salvataggio per il pubblico. Le curve, tutte a gomito, erano protette da balle di fieno. There giornata nera era annunciata. E purtroppo arrivò molto presto.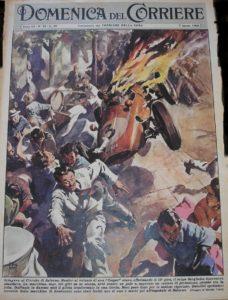 La tragedia al Gran Premio di Salerno
Era il 1960, 24 luglio. Al quindicesimo giro (la gara era di 50 giri), all'altezza della curva del Teatro Verdi che oggi è l'attuale Via Stanislao Lista, la macchina del pilota belga Jos Saveniers (soprannominato Jean Blanck) perse il controllo, sbandò e, con le scarse capacità di controllo delle automobili dell'epoca, finì sfracellandosi a 150 chilometri orari contro un palo.
Il carburante scagliato via dall'automobile generò anche un violento incendio nel quale perse la vita il pilota e si ferirono anche 16 spettatori: fu la goccia che fece traboccare il vaso.
La gara fu sospesa e, nonostante alcuni tentativi di rievocare il successo del Gran Premio di Salerno, dopo quel tragico 1960 non tornarono più le automobili da corsa sul lungomare. Sin dai tempi della tragica morte di Alberto Ascari nel 1955 ci si cominciò ad interrogare sulla sicurezza dei circuiti urbani, che continuavano a mietere vittime in tutta Italia: lo raccontò anche Maria Teresa De Filippis that il "divertimento" di parte del pubblico era proprio quello di aspettare gli incidenti nelle curve, che avvenivano con frequenza altissima e alcune volte erano fatali.
Non passò molto tempo prima di vedere proibiti i tornei automobilistici nei circuiti urbani in Italia: con l'aumento della potenza dei motori e con la popolarità sempre maggiore delle automobili, infatti, si moltiplicarono sempre più gli incidenti e i morti nelle serie minori. E così Salerno e il suo Gran Premio diventarono solo un ricordo da raccontare nei libri di Storia.
-Federico Quagliuolo
References:
ACI Club Salerno


Become a supporter!
With a small contribution you will keep the largest cultural dissemination site in Campania alive! Many advantages for you