La Piscina Mirabilis di Bacoli, con il suo cancello arrugginito in una strada senza cartelli turistici, è stata per decenni la perfetta rappresentazione dell'assuefazione all'abbandono che caratterizza i monumenti dell'area flegrea. Una situazione di abbandono che, ad agosto 2020, ha provato finalmente ad invertire la rotta con una nuova gestione grazie alle attività del Parco Archeologico dei Campi Flegrei e delle associazioni Misenum, Tre Foglie e Coop4Art.
Nacque più di duemila anni fa ed era una cisterna tanto grande che, a vederla oggi, sembra quasi una cattedrale sotterranea. Doveva rifornire la Classis Misenensis, la flotta di stanza a Miseno, che fu la più grossa del Mediterraneo at the time of August. Ci sono almeno 4 cisterne simili in Turkey e, ad Istanbul, le "gemelle" sono diventate un'attrazione da 2 milioni di turisti all'anno. Qui, invece, per cinquant'anni, per accedere era necessario chiedere il permesso a una persona, identificabile solo dal numero di cellulare scritto su un foglio di carta all'ingresso.
Peccato che questa sia la più grande cisterna romana del mondo e non ha nulla da invidiare alle colleghe che si affacciano sul Bosforo.
Piscina Mirabilis, un capolavoro dell'ingegneria romana
Miseno era il punto di arrivo di un'altra opera straordinaria di ingegneria romana: the Serino aqueduct, che partiva dalla bassa Irpinia e, dopo quasi 100 chilometri, giungeva a Miseno per portare acqua potabile per rifornire le navi militari.
Basterà pensare che la cisterna ha una capienza di ben 12.000 metri cubi d'acqua ed è alta 15 metri, lunga 70 metri e larga 25 metri, con 48 pilastri che sorreggono un soffitto cosparso ordinatamente di 48 volte a botte. Un tempo le pareti avevano il colore della terracotta e dell'intonaco bianco impermeabile, mentre oggi sono viscide, scivolose e verdi, ricoperte dal muschio creato dall'altissima umidità. E alle spalle sorge un grosso palazzone costruito fisicamente sopra l'opus reticulatum del muro perimetrale, con il secondo ingresso alla cisterna ormai murato. Incredibile immaginare che, senza alcuna cura, la Piscina Mirabilis sia rimasta in piedi davanti a eruzioni, earthquakes potentissimi e anche dinanzi al bradyseism che affligge l'area flegrea. Nulla l'ha abbattuta.
Attualmente è difficile capirne le dimensioni senza visitarla dall'interno: in un primo impatto, infatti, c'è solo un piccolo cancello che porta ad una scalinata, ma la sensazione di sentirsi minuscoli davanti a un edificio gigantesco diventa spiazzante quando, superata la luce dell'esterno, ci si avventura dentro la cisterna, fra i suoi archi scuri e i suoi spazi immensi interrotti dai fasci di luce delle feritoie superiori.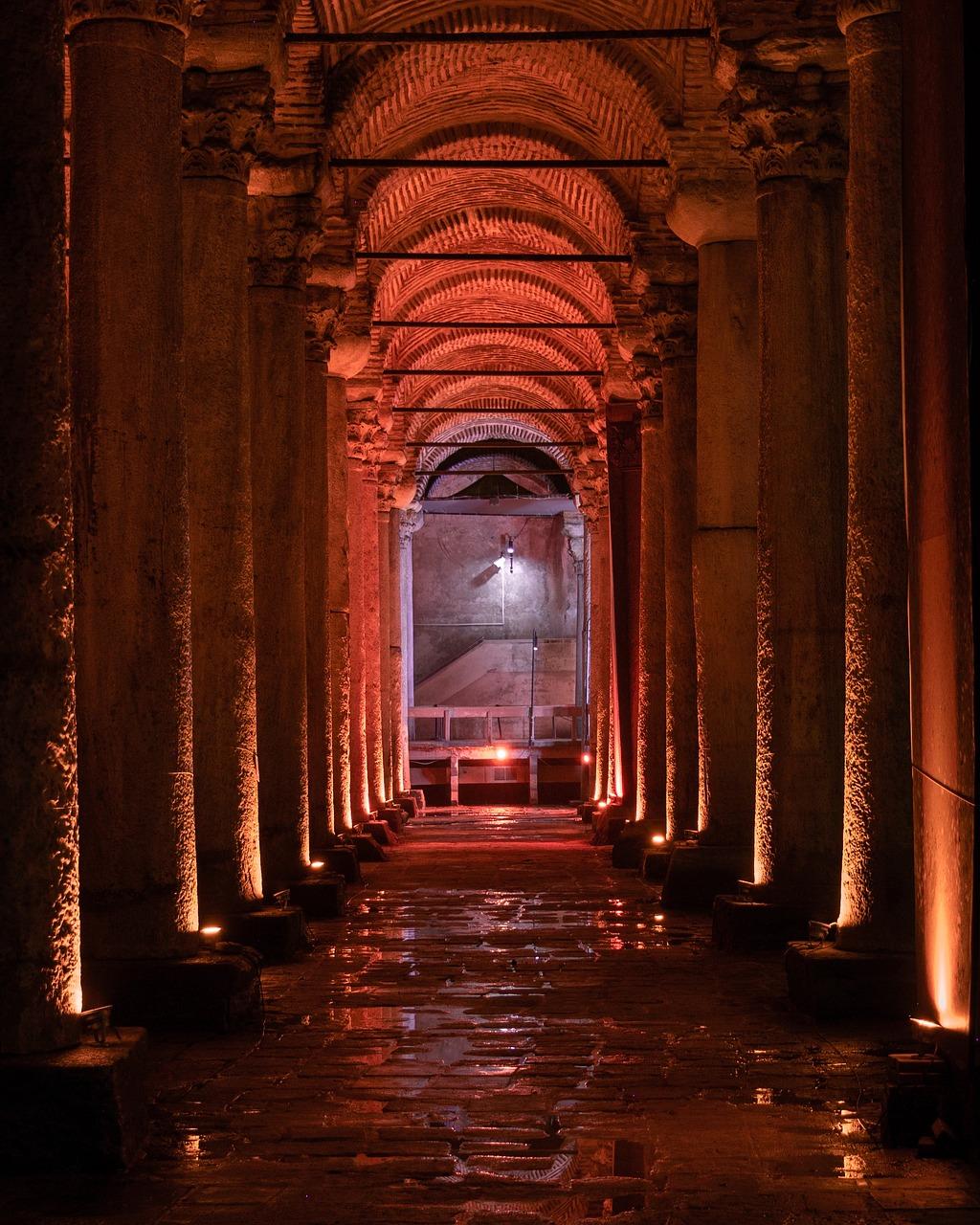 In Turchia Yerebatan è un modello di turismo
The cisterne romane romane di Istanbul, al secolo Costantinopoli, sono più piccole, più giovani e molto curate. Furono costruite fra il V e il VI secolo d.C., praticamente quando la Piscina Mirabilis aveva già 400 anni di onorato servizio, l'Impero Occidentale era crollato e Roma aveva lasciato a Costantinopoli lo scettro di faro del mondo.
There prima cisterna ad uso turistico fu quella di Yerebatan, aperta nel 1987, entrata immediatamente fra le attrazioni più visitate della Turchia. Poi, mentre nel 2009 il governo turco cominciò i lavori per la riapertura della Cisterna di Teodosio, l'Italia si ricordò della piscina Mirabilis grazie alla voce di un attore romano. Carlo Verdone, infatti, urlò un "Napoletani, ribellatevi!" durante la conferenza stampa di presentazione del film "il mio miglior nemico". Raccontò infatti che le scene del film girate a Istanbul gli davano rabbia pensando alla cisterna di Bacoli, sconosciuta anche a molti napoletani.
Yerebatan nel frattempo è stata restaurata una seconda volta ed è diventata il "Real Madrid delle cisterne", con un milione e mezzo di turisti all'anno: una cifra paragonabile alla somma di tutti i visitatori della Galleria dell'Accademia di Florence or al doppio dei turisti della Reggia di Caserta nel 2019.
Ed oggi, mentre Istanbul è lontanissima sia geograficamente che nella capacità di curare i suoi gioielli, la Piscina Mirabilis riapre le porte, per onorare finalmente l'inestimabile eredità storica che ci hanno regalato gli antichi romani in Campania.
Il link del Parco Archeologico dei Campi Flegrei he was born in Parco Archeologico dei Campi Flegrei.
-Federico Quagliuolo
Foto di copertina di Guido Daniele Villani
Become a supporter!
With a small contribution you will keep the largest cultural dissemination site in Campania alive! Many advantages for you