Lucrezia d'Alagno: a beautiful "blonde trezza", Large and deep"black eyes", graceful movements like those of a "nymph" And an extraordinary intelligence that woke all attention. She was such an extraordinary woman to be lose your head to Alfonso of Aragon, at the time of the most powerful men in Europe.
He was just 18 years old when he first met King Alfonso, who instead had ben 54 springs. One was enough gaze to spark a passion so intense and overwhelming that he convinced the king to do anything to satisfy the wants, desires and needs of his young lover that he managed to get a power equal to that of the sovereign, while never getting the crown.
His life, however, ended tragically.
A chance encounter on the feast of love
June 23 was the occasion of the feast of John the Baptist, which from the parts of Angevin market in Naples it was celebrated with a solemn procession composed of people and Noble seats.
It was a festival of pagan origins which, at night, ended with a festive swim in the sea and, during the day, with the search for a husband by women: the young women brought a small seedling of barley or wheat to offer to their lover who, in case of interest, he replied with a small gift.
That 23 June 1448 King Alfonso of Aragon, who five years earlier he had entered Naples, opened the procession. The Catalan ruler he loved to walk in the streets of the people and it was particularly fond of processions and solemn celebrations: he searched everywhere he went elegance, opulence and large banquets, anticipating Renaissance fashions by a century.
A young girl approached his regal figure with enchanting features and an almost mystical presence. Alfonso stopped the entire procession to observe her while, with an almost natural gesture, he offered him a barley seedling. It was a sign.
The ruler, smiling, gave her some gold coins for reciprocate his gesture: these coins were nicknamed "Alfonsini" because there was an effigy of the king. Thus it was that Lucrezia d'Alagno returned the smile and, with her hands full of gold, replied: "One of Alfonso is enough for me". It was love.
On the contrary: "A wonderful love", To say it in the king's own words.
Love so wonderful
Alfonso of Aragon immediately wanted to investigate theidentity of the young woman and immediately obtained the desired information: it was only recently moved to Torre del Greco and was the daughter of a family of the nobility originally from Amalfi belonging to Nest seat: Cola d'Alagno, the father was a former dignitary of the mighty king Ladislao, awarded several.
For love Alfonso he moved for a long time to Torre del Greco, where he had a tower restored, now the Town Hall, and he gave away an entire garden to his beloved, who is still called today Garden of the Countess.
These stories are told by Loise de Rosa, one of the most informed chroniclers of the Angevin and Aragonese era, was a "master of the house"Who served for 80 long years with noble families and royal courts: he was a great"inciucione"Of his time, to put it simply, and he collected all his memories in a book.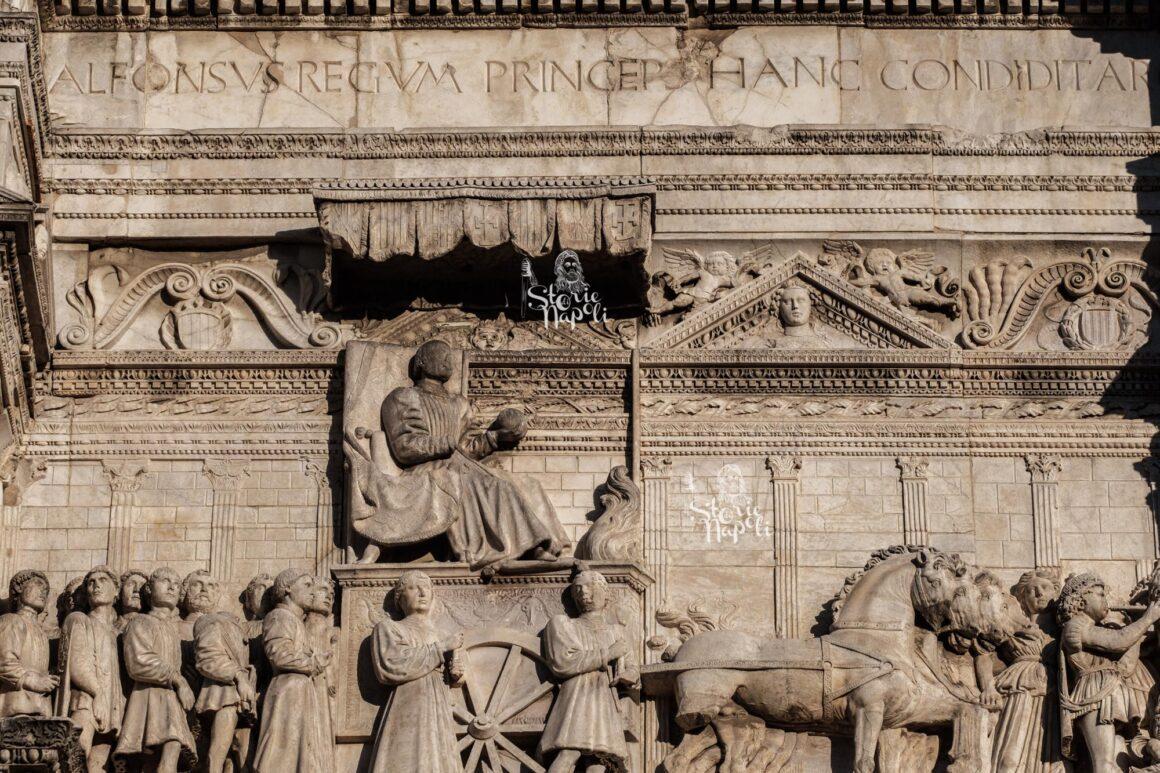 A queen without a crown
Lucrezia d'Alagno he had Alfonso's heart and soul in his hand. The entire court of Naples celebrated his beauty in poems, sonnets and short stories and the woman picked up a treasure of "many hundreds of thousands of ducats", in addition to having had as a gift San Marzano, Caiazzo, Somma Vesuviana and even the Aragonese castle and the whole Ischia island. It was said that to get a recommendation you had to talk to her first
The wife of Alfonso the Magnanimous, Mary of Castile, era sterile e physically separated from the kingIn fact, she lived between Castile and Catalonia and looked after her husband's interests on the other side of the Tyrrhenian Sea. The woman, in the 50s of the fifteenth century, she was very tired and sick and the king hoped he would die naturally. So long as he was late in dying, the Catalan king devised a different ploy: to send Lucrezia d'Alagno on a visit to the Pope, for ask for the cancellation of the marriage.
Callisto III accepted it, but gave spades. Lucrezia returned embittered and defeated: it was only necessary hope for the death of Alfonso's wife. Ironically, the king's wife died in 1458, six months after her husband passed away.
The tragic end of Lucrezia d'Alagno
After death of his royal protector, they began very serious troubles for the beautiful Lucrezia, which was about years old by now 38. The Aragonese court hated and feared her, but no one had ever twisted a hair: it was time for revenge. And the illegitimate son of Alfonso, Ferrante, he hated his father's powerful mistress, which he saw as a further threat to his power already worn out by war with his cousin Giovanni d'Angiò and against the Neapolitan nobles.
The new king of Naples was pushed by the Sanseverino family in crusade against Lucrezia d'Alagno, as Roberto Sanseverino was eager to demolish the mighty countess (and perhaps take her territories).
Giovanni Torella, his brother-in-law, thought to further demolish the figure of the woman the rumor spread that Lucrezia d'Alagno was supporting the Angevin faction both economically and logistically, up to hand over the entire island of Ischia to Giovanni d'Angiò. It was precisely in the seas of the island that, in 1465, there was the final battle that sanctioned the victory of Ferrante. Nobody, not even the family, protected Alfonso's old lover.
The new Aragonese king, once peace was restored, did an offer to Lucrezia: or death or a life-long exile in Puglia with a pension of 300 ducats per monthAnd. She he refused with disdain and went away to Rome asking for help from his sister, but lived in misery.
He died in 1479, on the threshold of 50 years, the day after asking for help for the umpteenth time in vain to her grandson which, with the tragic irony of fate, was called precisely Alfonso.
It was a story worthy of a Greek tragedy: after having almost touched the crown of Naples, he ended up in the blackest misery. the tower tarot represented in a woman.
-Federico Quagliuolo
References:
Braids
https://www.historiaregni.it/ferrante-daragona-la-battaglia-ischia/
Gio. Antonio Summonte, Historia of the city and of the Kingdom of Naples, Antonio Bulifon, Naples, 1671


Become a supporter!
With a small contribution you will keep the largest cultural dissemination site in Campania alive! Many advantages for you