Ci aspettano al porto ogni anno. Hanno accompagnato i nostri nonni, i genitori e ora i figli. Ci siamo mai chiesti perché le Ape Calessino sono il marchio di fabbrica di Ischia, Procida e Capri?
Dobbiamo forse ringraziare un vetturino ischitano, tale Francesco Di Meglio, che ha una storia a metà fra leggenda popolare e verità, tramandata dai tassisti isolani con gli stessi toni epici dell'Iliade.
L'Ape Calessino, un mito intramontabile
Avevano provato ad ammazzarla nei primi anni 2000, quando i Microtaxi furono sostituiti da piccole automobiline dotate di tutti i comfort, dall'aria condizionata ai portabagagli ampi e comodi. Allora quasi tutti i tassisti delle isole napoletane decisero di rottamare, svendere o chiudere in garage i loro fidatissimi compagni di lavoro a tre ruote, che ormai la Piaggio non produceva più dagli 70's e che, per i gusti dell'epoca, erano semplicemente old e inquinanti."È tempo di aggiornarsi", dicevano tanti. "Le Apecar, con quelle tre ruote, sono pericolose", incalzavano i concessionari di automobili. Un po' come il mito moderno delle "ruote piccole" che, secondo alcuni, renderebbero inguidabile la Vespa.
Poi parlarono i tourists: "Dove sono i vostri taxi con le tre ruote? Sa, quelli che fanno rumore" "Signò, li hanno rottamati tutti, non esistono più". La delusione profonda generata da quella frase è figlia di quell'irrazionalità dell'essere umano che ci fa preferire le emozioni alla comodità.
That "tuc tuc" sgraziato e chiassoso dei Microtaxi di Ischia, Procida e Capri è sempre stato la melodia dei turisti che percorrono le stradine strette delle isole. A volte, mentre i Calessini si arrampicano verso le alture di Barano e Serrara Fontana, ci si chiede come facciano a reggere cinque persone e altrettante valigie poggiate sul bordo del cassone, che non cadono per pura magia. Perché solo di magia si può parlare, non esistono leggi della fisica che tengano.
Genialità ischitana
Gli ischitani, degni rappresentanti della tradizione favolistica partenopea, hanno creato una vera e propria mythology attorno alla nascita dell'Ape Calessino, che coinvolge personaggi, nomi ed eventi circondati da un'aura di santità.
"Ho conosciuto di persona 'o mastro, Francesco Di Meglio!", esordisce così Giovan Giuseppe Carcaterra, presidente dell'associazione "Ischia Carrozze", tassista e appassionato collezionista di calessini ed Apecar d'epoca. Con il suo progetto di un "Museo della carrozza" vuole salvare e nobilitare la tradizione dei tassisti ischitani.
Il suo sguardo si rivolge al cielo quando parla di Di Meglio, quasi come se fosse il Santo Patrono dei Microtaxi: "Era appena finita la guerra e Di Meglio era un pover'uomo come ce n'erano tanti sull'isola -spiega Giovan Giuseppe- Quando la Piaggio mise in commercio l'Ape, quella con il cassone porta oggetti, decise di investire tutti i suoi risparmi per acquistarla. Poi pensò di sostituire il cassone posteriore con il telaio di un calessino, adattandolo alla piccola motoretta. Fu un successo, riusciva a portare passeggeri ovunque e senza sforzo".
Le avventure di Francesco Di Meglio finirono very bad: "Il mezzo era evidentemente illegale e fu subito sequestrato, l'inventore fu anche condannato in tribunale. La voce di questa trovata giunse alle orecchie degli ingegneri Piaggio, che studiarono con curiosità questo prototipo. Lo migliorarono e commercializzarono il primo calessino per passeggeri, stavolta perfettamente legale. Il low cost, la facilità di manutenzione e la resistenza delle Ape Calessino le fece spopolare sull'Isola".
Enrico Piaggio e Angelo Rizzoli
A seconda leggenda popular proviene dal "partito" di Lacco Ameno. In questo caso il Santo Patrono di Lacco è il milanese Angelo Rizzoli, fondatore della casa editrice, filantropo e profondo amante dell'Isola. Aveva una magnifica villa (dove oggi si trova il museo di Pithecusae) in cui riceveva gli uomini più ricchi e famosi d'Europa, fra cui anche Enrico Piaggio, il papà from the Vespa.
Il signor Piaggio, giunto sull'Isola, rimase affascinato dall'inventiva di un giovane vetturino di cui non si sa il nome (forse un altro Di Meglio, essendo molto comune il cognome sull'isola): aveva collegato il suo calesse a una Vespa farobasso, utilizzandola al posto del cavallo. Una cosa che farebbe inorridire qualsiasi collezionista moderno, con le sue vespe perfettamente restaurate!
La farobasso però all'epoca valeva poco e nulla. La trovata geniale impressionò l'imprenditore ligure, che di affari era esperto: pensò bene di salutare calorosamente l'amico Rizzoli, ringraziarlo per l'accoglienza ischitana e correre in fabbrica per mettersi subito all'opera: bisognava disegnare l'Ape Calessino, partendo proprio dal concetto di calesse che gli suggerì quel giovane senza nome.
Il "furto caprese"
La Piaggio, sensibile alle nostalgie degli appassionati e alle richieste di mercato, decise nel 2007 di rimettere in vendita un'edizione limitata dell'Ape Calessino: un modello elegantissimo e rifinito con stoffa bianca e vernice blu, destinato chiaramente a tutti gli autonoleggi per weddings, set fotografici, luxury hotels e film sulla "dolce vita". Tutta un'altra filosofia rispetto agli sportelli in metallo saldati alla buona sui Microtaxi, le finestre in plastica montate con ganci di fortuna e ai sedili rifoderati con ogni materiale a disposizione.
There veste lussuosa del trerruote doveva obbligare anche un cambio anagrafico: l'Ape nuova fu presentata in un tour di località di lusso in tutta Italia, nei luoghi in cui storicamente era diventata famosa durante gli anni '60. Per la Campania fu scelta Capri e non Ischia: questo "smacco" sollevò le ire di molti cittadini dell'Isola Verde.
Amici indiani
Le Apecar sono il filo che lega le isole italiane con l'India e i suoi "tuc tuc", che dal rumore del motore hanno addirittura preso il nome.
This connessione intercontinentale non dovrebbe sorprendere: la Piaggio aveva stabilimenti in India e, come con la Vespa, così con le Ape ha raggiunto un successo straordinario nell'intera area geografica. Non è un caso se la LML, una ex costola della Piaggio, abbia continuato a produrre Vespe fino al fallimento, nel 2017.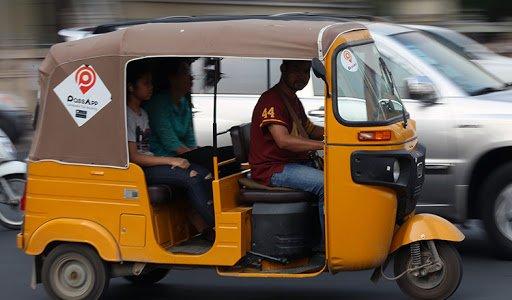 And today?
Abbiamo contattato in più modi la Piaggio per chiedere conferma sulla storia narrata dai bravi tassisti ischitani, ma non abbiamo avuto risposta. Quel che è certo è che sia nel Museo Piaggio sia sul sito ufficiale non si fa menzione del signor Di Meglio, ma si sottolinea il legame fra la vettura e l'Isola d'Ischia.
Del resto, gli Ape Calessino non hanno la minima intenzione di lasciare il servizio, un po' come un calciatore quarantenne che non vuole abbandonare la Serie A. E così oggi, fra macchine elettriche, motori efficientissimi e normative antinquinamento, lungo l'isola d'Ischia si aggirano ancora quei rumorosi due tempi, con le insolite tre ruote e le sgargianti vernici colorate che ci ricordano l'allegria dell'estate.
-Federico Quagliuolo
http://www.piaggiocommercialvehicles.com/it_IT/news-list/storia-ape/
Become a supporter!
With a small contribution you will keep the largest cultural dissemination site in Campania alive! Many advantages for you