Between vicoletti intricati, tutti salita e discesa, dei Spanish Quarters, salendo in direzione Corso Vittorio Emanuele (non senza un certo affanno), ci ritroviamo a percorrere la stretta Via Laura Beatrice Oliva. Se questo nome non ci ha ancora incuriositi, facciamo qualche passo avanti. Alla fine di questa strada, proprio all'angolo con salita Cariati, temibile anche per i camminatori più esperti, troviamo alla nostra sinistra la palazzina con il numero 24. Aguzziamo gli occhi e tra balconcini incastrati l'uno accanto all'altro leggiamo una license plate che riporta così:
Qui nacque
nel dì decimosettimo dell'anno 1820
modesta qual visse nella fortuna
Laura Beatrice Oliva
sposa di P. S. Mancini
poetessa
delle sventure e della libertà d'Italia
memoria posta dagli amici politici 1870
Chi era Laura Beatrice Oliva?
La data di nascita di Laura Beatrice Oliva è già tutto un programma: il 17 gennaio del 1821, soltanto un anno prima erano scoppiati i moti di Cadice contro i Borbone per ottenere la Costituzione. Siamo negli anni successivi al Congress of Vienna (1815) quando, dopo aver sconfitto Napoleon a Waterloo, le potenze europee si erano accordate per restaurare le monarchie vigenti prima dell'impresa napoleonica. Le braci dell'ideale rivoluzionario non si erano però spente e, così, dalla Spagna le insurrezioni si erano diffuse anche in Italia: in Sicily prima, poi a Naples and in Piedmont.
La famiglia Oliva e i moti rivoluzionari
Il padre di Laura, Domenico Simeone Oliva, noto intellettuale napoletano e professore di lettere e filosofia, fu tra i protagonisti dell'insurrezione che, almeno in un primo momento, ebbe buon esito. Il re Ferdinand I, indeed, concesse l'agognata constitution il 6 luglio 1820, ma pochi mesi dopo non ci pensò due volte: revocò la costituzione e, ottenuto l'appoggio delle truppe austriache, si scontrò con i costituzionalisti that they were sconfitti il 7 marzo 1821.
Domenico Simeone, insieme alla sua famiglia e alla piccola Laura, fuggì così in France per evitare l'ordine di cattura mossogli da Ferdinando e, solo dopo la morte del re, avvenuta nel 1825, la famiglia Oliva poté tornare a Napoli, dove la piccola Laura Beatrice crebbe e studiò.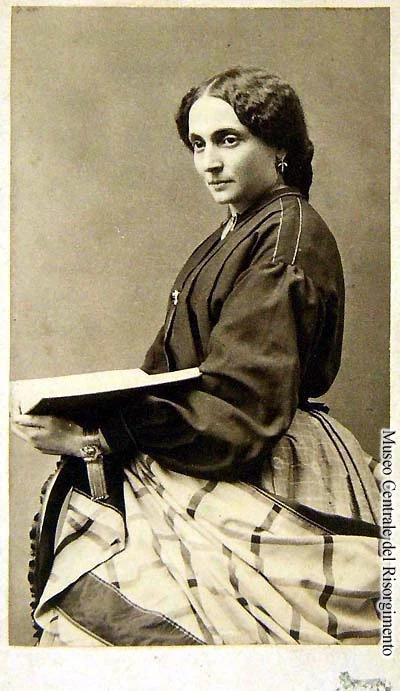 I moti degli anni '40
Despite the repressions, i movimenti rivoltosi degli anni '20 non si spensero e si fecero sentire ancora forti fino agli 40s. Nel 1839 Giuseppe Mazzini aveva fondato la "seconda Giovine Italia" e continuava a combattere e a promuovere il suo progetto indipendentista e repubblicano in tutta la penisola. Anche nel Kingdom of the Two Sicilies la ribellione liberare fu forte. Intellettuali da Carlo Poerio a Luigi Settembrini vi presero parte finché, il 29 gennaio del 1848, re Ferdinand II (per approfondire questo personaggio rimando all'interessantissimo articolo di Federico Quagliuolo: "Ferdinando II di Borbone, storia del re che non volle fare l'Unità") concesse, per primo in Italia in questa ondata rivoltosa, la Costituzione.
Nel frattempo, nel 1840, Laura Beatrice Oliva had sposato il giurista napoletano Pasquale Stanislao Mancini, attivissimo nella causa risorgimentale e nel 1845 si era spostata con il marito a Genova. Qui partecipò al Congresso degli scienziati italiani e recitò il suo componimento Italia. Pel supplizio dei fratelli Bandiera. Si spostò poi a Firenze, fu a Napoli nel 1850, subito dopo la proclamazione costituzionale, e raggiunse, poi, il marito a Torino.
Laura Beatrice Oliva a Torino: la canzone sull'attentato a Ferdinando II
A Torino Laura Mancini Oliva rischiò di essere processata per la sua canzone Agesilao Milan sull'attentato del 1856 a Ferdinando II (di cui ci parla in modo più approfondito ancora Federico Quagliuolo in Agesilao Milano and the failed attempt on Ferdinand II of Bourbon). Dalla città piemontese l'autrice immagina che la sua anima possa raggiungere le coste napoletane, il caro lido natio, per assistere alla condanna a morte di Agesilao Milan:
Ed ei sereno a noi par che sorrida.
Udiam l'estreme grida…
« Viva l'Italia e Dio!»
L'Unità e "Patria ed amore"
Fatta l'Italia e fatta l'unità, Laura Beatrice tornò a Napoli dove celebrò l'ingresso di Vittorio Emanuele with his Per l'ingresso in Napoli di Vittorio Emanuele re d'Italia, eseguito al teatro San Carlo.
In raccolta di poesie pubblicata nel 1861 a Torino e intitolata "Patria ed amore" Laura Beatrice Oliva conciliò l'impegno politico e rivoluzionario con la forte vocazione letteraria. L'unità di Italia era ormai già avvenuta e le parole con le quali l'autrice introduce la raccolta spiegano perfettamente il suo spirito:
"Non è senza trepidanza ch'io pongo sotto il vostro sguardo questa scelta di mie povere rime. Esse non hanno altro merito che quello di esser l'emanazione di un'anima educata costantemente all'amore ardentissimo della nazionale libertà ed indipendenza".

L. B. Mancini Oliva, Patria ed amore, introduzione Agl'Italiani
Accanto a poesie impegnate sui protagonisti dell'Unità d'Italia e dei moti del '48, la nostra autrice propone anche, con voce chiara e delicata, versi in chiave più personale e sentimentale. Troviamo, ad esempio, l'elegia dedicata al ricordo del padre e i versi intitolati "All'anima", una "bianca immagine", come la descrive lei, che si nasconde, ma continua ad apparire nei sogni e ad agitarsi nel corpo, tanto che "infiniti mondi" non potrebbero bastare per soddisfare il suo "lungo vagar".
Nella forte spinta politica all'Unità nazionale, infine, non manca il riferimento costante e sentito alla sua Napoli:
… io miro
Te mio dolce sospiro,
Mio primo amor, Napoli mia !

L. B. Mancini Oliva, Patria ed amore, Ai morti per la patria
Claudia Grillo
Bibliography and sitography:
L. B. Mancini Oliva, Patria ed amore, Torino, 1861
V. Gleijeses, La Storia di Napoli dalle origini ai nostri giorni, Napoli, 1978
https://www.treccani.it/enciclopedia/laura-beatrice-fortunata-oliva_%28Dizionario-Biografico%29/
https://www.treccani.it/enciclopedia/moti-del-1820-21_%28Dizionario-di-Storia%29/
https://www.treccani.it/enciclopedia/rivoluzioni-del-1848_%28Dizionario-di-Storia%29/
Become a supporter!
With a small contribution you will keep the largest cultural dissemination site in Campania alive! Many advantages for you