Nicola Miraglia ebbe una vita piena di successi ed incarichi di grande responsabilità: garibaldino convinto, dopo aver ricoperto numerosi incarichi pubblici, vide il suo più grande successo nella risoluzione di una situazione a dir poco disperata: riuscì a salvare il Banco di Napoli, che era sull'orlo della bancarotta e con l'acqua alla gola dopo lo scandalo bancario del 1892.
Le origini: un garibaldino convinto
Nato in un piccolo paese della Basilicata, si trasferì a Napoli per compiere i suoi studi universitari, presso uno zio. Consegue la laurea in giurisprudenza nel 1858 ed ottiene subito un posto di lavoro al Ministero dell'Interno del Regno delle Due Sicilie. L'Unità era alle porte.
Nel 1860, con l'ingresso di Giuseppe Garibaldi a Napoli e con l'instaurazione del periodo di dittatura, lui si dimostra un convinto sostenitore dell' Unità italiana, intervenendo spesso in dibattiti politici e proprio per questo fu notato dai funzionari imposti da Garibaldi, che gli diedero un incarico nella Segreteria generale del governo provvisorio.
It seems that fu proprio Miraglia a convincere due importanti collaboratori di Garibaldi, Giorgio Trivulzio Pallavicini, con cui lavorava a stretto contatto, e Antonio Mordini a parlare con l'"Eroe dei due mondi" della rinuncia alla dittatura in favore di un plebiscite per l'annessione dell'ex Regno delle Due Sicilie al nascente Regno d'Italia. Un ruolo in cui ebbe voce in capitolo anche l'avvocato Raffaele Conforti, ma questa è un'altra storia.
La rapida carriera amministrativa e politica
Con l'insediamento di un nuovo regno, di un nuovo governo e dei nuovi ministeri, la carriera di Miraglia proseguì brillantemente: ricevette altri importanti incarichi amministrativi nei ministeri di Grazia e Giustizia, nella Cassa ecclesiastica delle province meridionali ed arrivò a trasferirsi nella nuova capitale, Torino, quando ricevette un ruolo nel Ministero dell'Agricoltura, Industria e Commercio, che ebbe come segretario generale il napoletano Antonio Scialoja. Vi rimase fino al 1883, rsggiungendo lo stesso ruolo occupato precedentemente da Scialoja.
Nel 1892 venne eletto alla Camera dei deputati del Regno e durante il suo mandato svolse diversi ruoli in commissioni parlamentari, concludendo importanti accordi commerciali, come con l'Austria-Ungheria e con la Swiss.
Il caso del Banco di Napoli: un'impresa quasi impossibile
That same year, esplose lo scandalo della Banca Romana. Molti nomi in vista del Regno furono incriminati gravemente e molti istituti bancari ne risentirono gravemente. Tra questi, la storica istituzione del Banco di Napoli, uno dei maggiori d'Italia, già molto provato dagli eventi dell'Unità, a seguito delle ispezioni che conseguirono, risultò fortemente indebitato, con perdite ingenti e con un'organizzazione interamente da rivedere.
Il Ministro del tesoro Luigi Luzzatti (a cui è dedicato un rione a Napoli), fiducioso delle capacità manageriali di Miraglia, lo nominò direttore generale del Banco di Napoli, dandogli carta bianca.
Quest'ultimo non perse tempo ad effettuare una radicale modifica all'organzzazione del personale, riducendolo allo stretto necessario e dimostrandosi molto severo nella selezione dei dipendenti. Inoltre, rafforzò servizi come la cassa di risparmio e introdusse la rimessa di denaro per i migranti italiani d'oltreoceano.
Non gli mancò un occhio di riguardo per il territorio: già si parlava di "Southern question", alla quale non era indifferente, infatti divenne socio del Regio Istituto di Incoraggiamento, nonchè tra i promotori della legge speciale per Napoli del 1904, per l'industrializzazione della città.
Dopo dieci anni di gestione del Banco, le perdite si ridussero in maniera esponenziale e i possedimenti dell'istituto tornarono in attivo. Nuove problematiche economiche, non solo a livello del Banco di Napoli, ma a livello nazionale, le si ebbe nuovamente con la guerra per la conquista della Libia, fortemente incoraggiata dal governo Giolitti e, successivamente, anche con la Great War. Miraglia si battè per salvaguardare i risultati duramente ottenuti, spesso avendo rapporti conflittuali con alte cariche dello Stato. Nonostante le ingenti spese obbligate dal governo, riuscì a preservare ancora l'integrità economica della sua banca.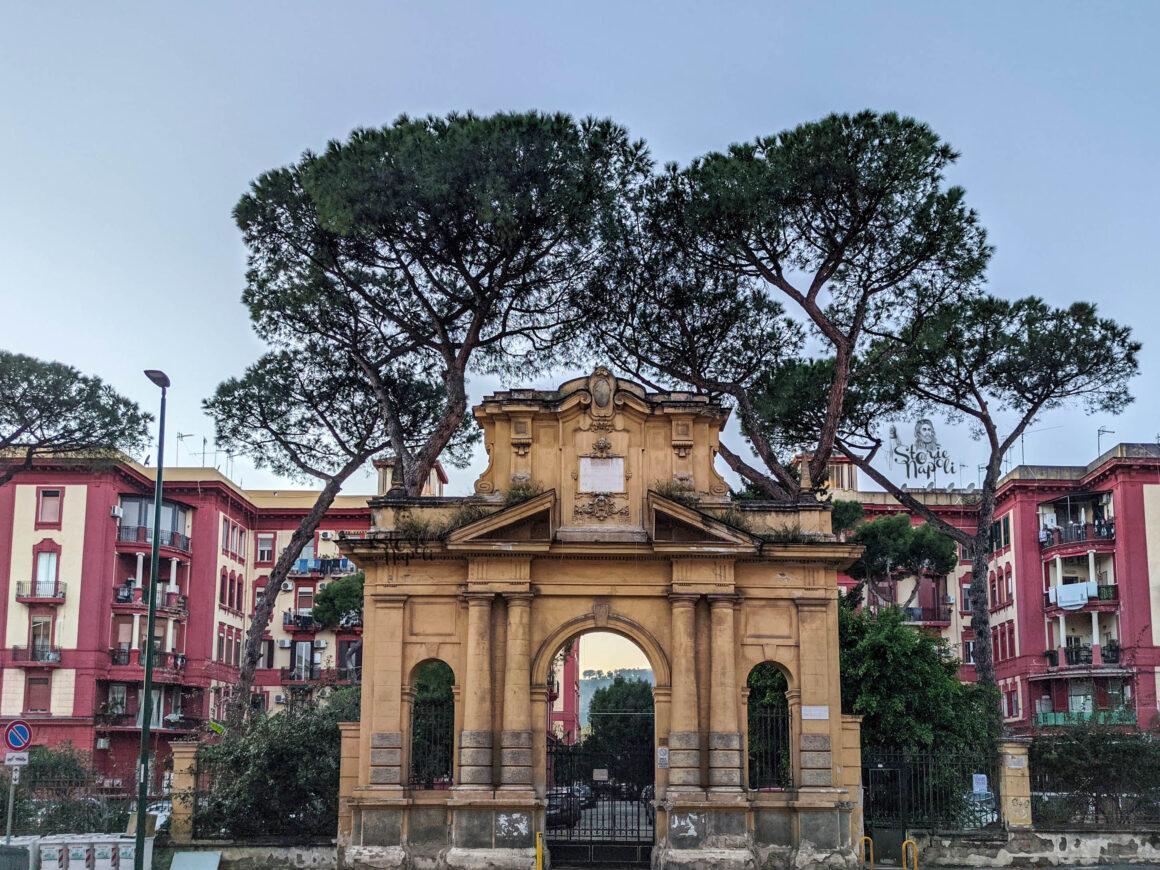 The last years
Con l'avvento del fascismo, ebbe dei contrasti politici, sempre dovuti al suo essere restio dal coinvolgere i fondi del Banco nella politica, tuttavia non si dimostrò ostile al Partito Nazionale Fascista, di cui accettò la tessera onoraria nel 1923. Il conflitto con il Ministro delle finanze fascista, tuttavia, continuò ancora a lungo.
Nel 1924, i rapporti di Miraglia con il Ministro, già incrinati, si ruppero completamente, anche grazie alle critche del Direttore ad un'istituzione statale di nuova fondazione che, secondo lui, non avrebbe fatto altro che accentuare il divario economico tra nord e sud. Sempre nel '24, fu nominato cittadino onorario di Napoli.
Il Ministro, incominciò col sostituire dei membri del consiglio d'amministrazione della banca, senza consultare il direttore, mirando a rimuoverlo dall'incarico. Infatti, nel 1926 Miraglia, oramai molto anziano, seppur perfettamente lucido, fu sostituito con un altro direttore, di nomina ministeriale.
In his ultimo anno lavorativo, all'età di 91 anni, fu stilato un resoconto circa il bilancio complessivo del suo operato come direttore generale del Banco di Napoli, inoltrato anche a Mussolini. Ha portato i possedimenti dell'istituto a cui ha dedicato una grossa fetta della sua vita da valori negativi del 1892 a circa 160 milioni di lire nel 1926 ed ha modernizzato l'organizzazione del personale e dei servizi offerti, tra cui alcuni tutt'oggi presenti, il tutto non negando mai la partecipazione alle iniziative statali che implicassero spese per la banca. Vittorio Emanuele III lo nominò Conte quello stesso anno, in nome della sua lunga e fruttuosa carriera.
Antonio Cardarelli lo definì "il più grande medico" per essere riuscito a risanare le casse devastate del Banco di Napoli.
Morì a Napoli, nel 1928. Quello stesso anno, gli fu dedicato un complesso di costruzioni, il "Rione Nicola Miraglia", dell' Istituto Autonomo Case Popolari (IACP), di cui fu presidente, nel quartiere Fuorigrotta, oggi davanti allo stadio San Paolo. Tutt'oggi quel parco residenziale porta il suo nome, inciso su una lastra di marmo, in cima all'imponente cancello d'ingresso.
-Leonardo Quagliuolo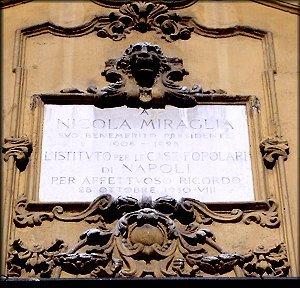 For more:
Fondazione Banco di Napoli
Archivi d'Impresa
"I grandi lucani nella storia della nuova Italia", Cilibrizzi, 1956.
Become a supporter!
With a small contribution you will keep the largest cultural dissemination site in Campania alive! Many advantages for you